Khia Slams 'Lemonade,' Says Beyonce and Serena Williams Are Perpetuating Racial Oppression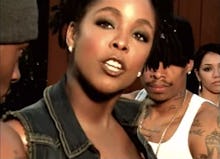 One hit wonder Khia ("My Neck, My Back") is throwing a ton of shade at Queen Bey and her sidekick, Serena Williams. 
Williams appears in the video for "Sorry" from Beyoncé's new album, Lemonade, and based off her Shade Room interview, Khia doesn't like any of it. 
Read more: Beyoncé's 'Lemonade' Literally Broke the Entire Internet
"Fuck her. First of all, the video was tired and through and long and it just made black people look bad as hell," Khia said of Beyoncé and her "Sorry" music video. "Bitch, you walking around with this blonde, long ass hair, but, you know, African queens and kings in your video. [It] has Serena as her goddamn jester dancing."
Khia's reference to Beyoncé's "blonde, long ass hair" alludes to a possible irony in Lemonade. Beyoncé sings about the now world famous "Becky with the good hair" — speculated to be a stand-in for the woman Jay Z allegedly had an affair with — which was widely regarded as a defiance of Caucasian beauty standards and celebration of natural black beauty instead, which is perhaps why Khia got so het up.
In the video, Queen Bey sits on a chair akin to a throne while Williams occasionally twerks within the vicinity. 
"And here you [Williams] is, black as a black juicy berry and you getting in front of this ho [Beyoncé] and let her have her legs open in the chair while you twerking for her like the slave masters had us do," Khia adds. "Bitch, did you channel that, too?"
Khia's followup comments are equally racially charged, suggesting rather than offering liberation through Lemonade, Beyoncé has helped perpetuate implicit social narratives of racial oppression of black Americans. 
That'll be up to the fans to decide.