One Poem Hilariously Sums Up the Truth About Mexican Immigrants "Taking Our Jobs"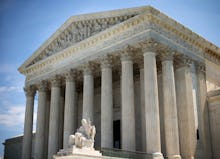 Hundreds of people gathered outside the Supreme Court on April 18. 
One protester's sign was nothing short of epic.
"Roses are red, tacos are enjoyable, don't blame a Mexican just because you're unemployable," the simple yet brilliant twist on a classic poem read.
The group was protesting both sides of the landmark immigration case that will decide whether or not President Barack Obama abused his executive power on immigration with his plan to prevent millions of illegal immigrants from being deported.
Honestly — if this guy isn't woke, who is?