University of Louisville Will Take Down Massive, 121-Year-Old Confederate Monument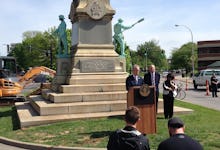 More than a century after it was erected in 1895, the 70-foot-tall monument to Confederate soldiers that stands on the University of Louisville's main campus will be taken down, officials announced Friday.
"This monument represents our history — a painful part of our nation's history for many — and it's best moved to a new location," Louisville Mayor Greg Fischer said at a media conference with university president James Ramsey.
That "new location" will be in storage, where the statue will be disassembled, cleaned and prepared for transport to a yet-undetermined but "more appropriate" place, the Courier-Journal reported — a fitting end for a structure that's caused tension in the city for years.
The decision to take down the monument ends a decades-long battle, in which various factions debated whether keeping a visual tribute to an army that fought to maintain black slavery was appropriate on a racially diverse American campus.
In a 2002 decision, the university's board of trustees unanimously voted to rename the area around the statue in a tribute to civil rights leaders, according to the Courier-Journal. Most recently, in April, Louisville professor and chair of Pan-African studies Ricky L. Jones penned a biting letter calling for the statue to be removed.
"Let us make history of our own this day," he wrote for the Courier-Journal. "I say now, 'Mr. Fischer and Mr. Ramsey, tear down this statue!' It is way past due."
Friday's announcement is the culmination of this battle, but it's not the only one; the University of Louisville is far from alone in having this sort of debate in recent years.
Other schools and institutions have seen similar disputes: Harvard Law School recently opted to remove its controversial seal, which bore the coat of arms for a slave owner who helped found the school. Georgetown University students staged a sit-in in November that prompted officials to rename a building that had previously been named for former school president and slave owner Thomas F. Mulledy.
In a move that got the ball rolling, the Confederate battle flag was removed from the statehouse in South Carolina in July, mere weeks after a then-21-year-old white supremacist, Dylann Roof, killed nine black parishioners in the city's revered Emanuel African Methodist Episcopal Church.
The shooting forced much of the U.S. — and the American South especially — to reckon with the true significance of Confederate symbols. The conclusion was unavoidable: They celebrated a cause that wanted to keep black people enslaved, and terrorized black people long after they were freed.
Now, these monuments are gradually being torn down. What a time to be alive.
h/t Courier-Journal