Protesters Throng Donald Trump Event Near San Francisco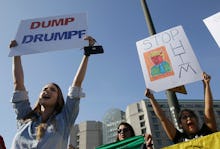 Demonstrators massed in California Friday to protest Republican presidential frontrunner Donald Trump outside his scheduled speech before the state Republican Party Convention.
The protest forced Trump and his entourage to take a roundabout route to get into the event at a Hyatt in Burlingame. Lines of armed police were visible beyond a forest of handmade signs and Mexican flags.
Read more: 11 Powerful Images Capture the Chaos of Trump Protest in California
Trump made light of the situation at the top of his remarks to the GOP, which were televised.
"Wow. So nice. That was not the easiest entrance I've ever made," Trump said. "We went under a fence and through a fence. Oh, boy. Felt like I was crossing the border, actually. You know? I was crossing the border."
He continued:
But I got here. They said, 'Mr. Trump, it would be much easier, sir, if you just didn't speak today and just left and go back immediately to Indiana.' And I said, 'You know, we can't let these people down. Right? Do we agree? We can't do it. But I appreciate it. But it was fun. It was a little different.
The demonstration in Burlingame came a day after a chaotic anti-Trump protest in Costa Mesa that left Trump supporters bloodied and police cars smashed and resulted in about 20 arrests.
The Burlingame protesters knocked over metal barricades meant to keep them corralled, making several attempts to rush the convention hotel:
Unsurprisingly, this led to confrontations with police:
Reporters tweeted that even eggs were being tossed around as demonstrators continued to try to get into the event:
Also taking a serious beating: A Trump piñata:
Even the Hyatt itself wasn't immune to being draped in political messages:
And demonstrators burned an American flag too.
Some took a slightly more flippant — and fashionable — approach to taunting Trump:
Trump wasn't the only person who had a hard time getting into the event. Some of his supporters got hassled en route, per a Los Angeles Times reporter's video:
Ahead of the speech, Trump greeted volunteers, flashing the thumbs-up sign and posing for photos.
Trump ended up leaving the way he came in, inspiring a new hashtag: #TrumpJump.