South Korean Olympic Athletes Will Wear Zika-Proof Uniforms in Rio de Janeiro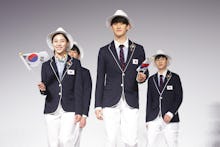 This year, South Korea's Olympic athletes will wear specially made tracksuits and pants-and-blazer ensembles doused in insect repellant, according to CNN. 
The style move aims to protect the athletes from the Zika virus during the Rio Olympics on August 5. 
The outfits will be worn during the opening and closing ceremonies and training sessions, but aren't allowed during actual competitions, according to the Associated Press.
Comparable to dengue fever and yellow fever, Zika is transmitted through the female Aedes aegypti mosquito. It's prevalent in multiple countries across South America, notably Brazil. 
Research suggests a connection between Zika and microcephaly — a condition in which brain development becomes stunted in fetuses and newborns.
Earlier this month, South Korean officials made a visit to inspect Rio de Janeiro's hospitals and Olympic venues to learn more about protecting its athletes against Zika, according to the Associated Press. 
Read more: A New NASA Map Shows Where the Zika Virus Could Hit America the Hardest