Man Barges Into Women's Restroom Because He Thought Woman Inside Was a Man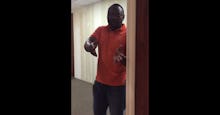 Expecting an ordinary bathroom trip, Texan woman Jessica Rush got a surprise when a man followed her into the women's room because he thought she was a man.  
Rush was at Baylor Medical Center in Frisco, Texas, on Thursday when a man barged into the restroom because, as he said many times, she was "dressed like a man." Rush posted a video of the incident on Facebook later that day. 
Rush, according to the Dallas Observer, was born female and identifies as a woman. She wore a T-shirt, basketball shorts and sported a blonde fauxhawk when the man mistook her for a man. 
Later, in the office lobby, the man explained to Rush that he was nervous that a man was going to enter the same bathroom as his mother. 
"The point is I was helping my mom. I was confused when I see somebody enter the woman's bathroom looking like a man," he said. "I wanted to make sure she was going to the right place." 
Rush told the Observer that this is not the first time that her gender expression has led people to confront her while she was trying to use the restroom. 
Rush said women in bathrooms at craft store Hobby Lobby and even at her local gym have shown surprise when she entered women's facilities — at least at the gym, the woman apologized after making the mistake. 
Rush told the Observer that the constant bathroom mix-ups make her feel "super-insecure," just one of the many emotions that gender-nonconforming people may face when using a public bathroom. 
"Welcome to my world," Rush wrote in the video's caption on Facebook. "Trust me, it's not just a transgender problem. This is just the first time I got video ... Do you actually think I would choose this life?" 
Recently, who gets to use what bathroom has been a national conversation since the passage of North Carolina's HB2, which requires that people in North Carolina use the restroom that matches their gender assigned at birth, not their gender identity. However, since the law's passing, corporations like Target and PayPal have opposed it while celebrities like Bruce Springsteen and activists have spoken out against it, defied it and taken selfies to protest it.