Helen Mirren's Prince Tattoo Just Stole the Show At the White House Correspondents' Dinner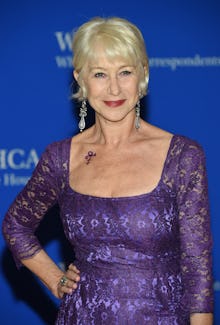 The red carpet for the White House Correspondents Dinner was a star-studded affair, but Dame Helen Mirren stole the show with a touching tribute to Prince.
The 70-year old actress wore a long purple gown, which she accented with a temporary tattoo of the late pop icon's infamous unpronounceable symbol. A contract dispute forced the singer to change his name to the symbol in 1993, leaving the media to refer to him as "The Artist Formerly Known as Prince" until 2000.
Mirren, along with countless other Hollywood and political elites, attended the annual dinner Saturday night. She strolled the red carpet alongside her husband, Taylor Hackford. 
Prince passed away on April 21 at age 57, and has been mourned worldwide by fans and fellow artists.