President Obama Might Have Just Predicted A Hillary Clinton Presidency in WHCD Speech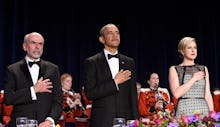 During his speech at the lighthearted annual White House Correspondents' Dinner, President Barack Obama gave the assembled journalists a story to write home about when he teased at a potential Hillary Clinton presidency.
During his joke-heavy address to a room packed with media and Hollywood elites, Obama lamented the fact that the event would be his last and speculated on which of the 2016 presidential candidates might be poised to take his place next year.
"Next year someone else will be standing in this very spot, and it's anyone's guess who she will be..." Obama said to thunderous applause.
The president also took some playful swipes at Clinton, saying that her awkward campaign rhetoric has been similar to "...your aunt who just joined Facebook."
He compared Bernie's Sanders' "Feel the Bern" slogan to Clinton's, commenting that hers hadn't had quite the same effect while a mock campaign logo reading "Trudge Up the Hill!" was projected up on a screen behind him.
Obama closed out his speech with a literal mic drop. 
"I just have two more words to say: Obama out," he said as he walked offstage.