Here's How Beyoncé Became a Superpower, From Girls Tyme to 'Lemonade'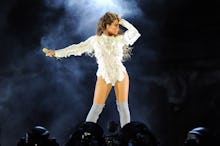 Beyoncé is shorthand for independent woman. An artist who's built an empire on her own fiercely guarded autonomy, she's amassed an aggressively loyal following by making herself into an icon of modern womanhood: She doesn't rely on men; she is strong on her own; she goes after and gets what she wants. Perhaps for this reason — that she appears to depend on no one but herself — Beyoncé is the rare, maybe unique celebrity who seems beyond popular reproach. Indeed, her name is akin to a compliment. 
As the world continues sipping her Lemonade, searching for the as-yet-unidentified "Becky with the Good Hair" and looking forward to her sold-out shows, we're looking backward at Beyoncé's trajectory from Texas talent show circuit to ever-amplifying fame.
Beyoncé's formation
Beyoncé Giselle Knowles was born to Tina and Mathew Knowles on September 4, 1981 in Houston, Texas. Her early years were comfortable, even if her parents' relationship was not. The pair are now divorced, but as Tina Knowles Lawson has openly acknowledged, the marriage was "tumultuous" before Beyoncé came into the world. Tumult spurred Knowles Lawson — Beyoncé's "biggest hero," she recently told Garage magazine — to go into business for herself, guaranteeing she would "never be totally dependent on someone" again. Beyoncé seems to have adopted this philosophy.
"I truly believe that women should be financially independent from their men," she said in her 2013 HBO documentary. "Let's face it, money gives men the power to run the show." Beyoncé's net worth, separate from that of Jay Z, her husband, is $450 million. She's built an empire on lessons learned from parents who constantly reminded her "that nothing worth having comes easily," she said in an exclusive interview with Elle in April. "My father stressed discipline and was tough with me. He pushed me to be a leader and an independent thinker," she added. 
Mathew Knowles also managed Beyoncé's career, driving his daughter to pursue music from an early age. She entered her first talent competition at age seven, according to People, crushing her much older rivals with a show-stealing rendition of John Lennon's "Imagine." The talent circuit led to the "hip-hop rappin' Girls Tyme" we hear referenced in the opening to 2013's "Flawless." Group members included Kelly Rowland, LeToya Luckett and LaTavia Roberson, People reported. The audio clip that kicks off "Flawless" comes from a 1993 performance on Star Search, which the girls ultimately lost to Skeleton Crew.
Destiny's Child
Girls Tyme became Destiny's Child in 1996, after Mathew Knowles quit his job as a Xerox salesman to manage his daughter's group full-time and engineered a deal with Columbia Records, according to People. The self-titled album Destiny's Child came out in 1998, but Mathew's tough management style alienated Luckett and Roberson.
"Matthew did not mince his words and it can be tough to take that kind of criticism when you are a little girl," Roberson said to the Mirror, according to Fader. "We would try not to let it break us."
When the Roberson and Luckett pushed for a second manager, Mathew reportedly cut them from the group, replacing them with Michelle Williams and Farrah Franklin before 2000's "Say My Name" video. Franklin didn't take to Mathew, either — by August of 2000, DC was a three-woman act: Beyoncé, Rowland and Williams. Their run was short-lived: In 2001, the group went on hiatus, so that all three women could work on their solo careers. Beyoncé's was the only one to really take off.
The crowning of Queen Bey
Beyoncé's first solo album, Dangerously in Love, debuted in 2003 and within one week, sold 317,000 copies, according to People. Its lead single, "Crazy in Love," went on to top Billboard charts for eight consecutive weeks and placed Beyoncé firmly in the spotlight. Everyone remembers the music video's shot of Beyoncé strutting down the street, impervious to traffic and securing her solo fame.
Dangerously in Love brought a deluge of awards. In 2004, Beyoncé was nominated for six Grammys, five of which she won, tying what was then a record for most Grammys awarded to a female artist. Later that year, she briefly reunited with Rowland and Williams to record Destiny Fulfilled, DC's fourth and final album, before returning to her own projects. In 2006, she released B'Day. It debuted in Billboard's number one spot and won her a Grammy in 2007, according to People. 
2008 saw Beyoncé take on the role of Etta James in Cadillac Records, her marriage to Jay Z in a secret New York ceremony and the dawn of her fame-accelerating alter-ego Sasha Fierce. 
Superpower
Beyoncé's third album, I Am ... Sasha Fierce, the two-for-one that cemented the artist's superstar status. "The double album allows me to take more risks and really step out of myself," she said, according to People, "or shall I say, step more into myself, and reveal a side of me that only people who know me see." 
What Beyoncé stepping into herself meant was a new dance craze prompted by her video for "Single Ladies (Put a Ring on It)," an empowering buh-bye from single ladies everywhere to the men who weigh them down. Choreographers Frank Gatson Jr. and JaQuel Knight put together a routine that fulfilled Beyoncé's demand for a dance that would "feel good and powerful ... something that everyone would do," according to People. She got her wish: Fans are still polishing their "Single Ladies" moves, eight years later.
Sasha Fierce established Beyoncé as a strong, independent artist, increasingly moving away from her father's direction. By 2009, Beyoncé biographer J Randy Taraborrelli alleged, Mathew and his daughter were "speaking only intermittently, or maybe not at all." Beyoncé officially fired Mathew in 2011, insisting — despite whispers of theft — that the separation existed "on a business level" only; that she loved him "dearly" and always would. 
She took the reins at her creative company, Parkwood Entertainment, for the release of her fourth studio album, 4, in June of 2011. The following year, she inked a $50 million endorsement deal with Pepsi and gave birth to Blue Ivy Carter, an event she told Garage was her "proudest moment hands down." But 2013 gave her a few career moments to be proud of, too — most notably that time she broke the internet with the surprise release of her fifth album, Beyoncé. 
Like all four of her previous albums albums before it, Beyoncé debuted in the number one spot on the Billboard charts. But with her fifth album, Beyoncé outdid her personal best, selling 617,000 copies within the first weekend. It was the most substantial week of album sales for a woman that year, and it introduced the term "Surfbort" into popular parlance. 
Lemons into Lemonade
And still Beyoncé managed to keep most of her personal life personal, even as her fame ballooned to more impressive proportions than ever. In February 2016, she broke that pattern, dropping her surprisingly woke single "Formation" on an unprepared world, one day before her Super Bowl halftime performance. With it, she made unexpected and bold statements about her heritage, police brutality, black culture and feminism. 
And then, in an hour-long HBO special aired on April 23, she released Lemonade, a public and scathing rebuke of a cheating husband, apparent confirmation of the long-milled rumors that Jay Z cheated. Even as she appeared to share a very personal ordeal with the world, she seized control of the narrative, refusing to be cast as victim.
"Lemonade was everything that fans wanted, and more," Mic's Jamilah King wrote of Beyoncé's sixth album. "It was epic, it was beautiful, it was salacious, it was sexy, it was honest and it was not sorry. It was unapologetically black .... It echoed the pain of heartache and the sweetness of revenge." 
Lemonade is poised to debut at number one on the Billboard chart. During its first week, it sold over 500,000 copies and 700,000 "album-equivalent units," likely attributable to its initially Tidal-exclusive release. It's guaranteed staggering success represents the power that Beyoncé, now in a place where she needn't abide anyone else's bullshit, wields — over her career, her marriage, her life. 
"I'm learning how to drown out the constant noise that is such an inseparable part of my life," Beyoncé has said. "I don't have to prove anything to anyone, I only have to follow my heart and concentrate on what I want to say to the world. I run my world."
Read more: As Fans Celebrate Drake's 'Views from the 6,' Here's How the Rapper Became Famous