Kylie Jenner Calls Herself a Feminist, Says She Doesn't Depend on Men or Mom Kris Jenner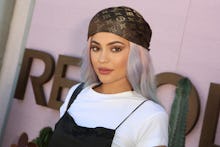 King Kylie is a feminist. In case that fact wasn't already clear, the youngest of the Kardashian/Jenner squad Kylie Jenner is gracing the cover of Glamour U.K.'s June 2016 issue, revealing she doesn't rely on any man for her money, or even her mom/manager Kris Jenner for a weekly allowance. 
"I do consider myself a feminist," the 18-year-old told the publication. "I'm a young woman, for one thing, and I don't depend on a man or anybody else. I make my own money and start my own businesses, and I feel like I'm an inspiration for a lot of young girls who want to stand on their own."
Read more: Kylie Jenner Loyalist Gets Kylie Lip Kit Swatches Tattooed on His Forearm
Reports estimate Jenner's net worth is a cool $5 million, while her multiple business endeavors continue to earn her big bucks, from her line of colorful lipsticks, to her apps and modeling pursuits. 
"I haven't had a dollar of my mom's money for five years," Jenner continued. "Ever since I started earning my own money, I've paid for everything: all my cars, houses, clothes, everything. I like to know exactly what's going on and I'm actually quite careful with what I spend. We all are as a family."
While her ability to not rely on her mom for a single dollar since she was 13 can only be explained by being born into privilege and is an entirely different conversation, it's great to see the youngest of the most discussed family in America hoping to change the world ... in her own, lipstick-colored way.