Amy Schumer Says She Won't Take Photos With Fans After Man Harasses Her on Street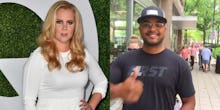 Amy Schumer has been on a standup tour throughout the country as the third season of Inside Amy Schumer has kicked off on Comedy Central. Despite being one of the most sought after comedians in the country, she won't let herself become the target of unwanted attention. When an apparent fan confronted her in front of his entire family, putting a camera in her face and saying "It's America and we paid for you," the always outspoken Schumer decidedly flipped the sort of harassment on its head. 
"This guy in front of his family just ran up next to me scared the shit out of me. Put a camera in my face. I asked him to stop and he said 'No it's America and we paid for you,'" Schumer wrote on Instagram after uploading a photo of the alleged man who stopped her in the middle of the street. "This was in front of his daughter. I was saying stop and no. Great message to your kid," she continued.
"Yes legally you are allowed to take a picture of me. But I was asking you to stop and saying no. I will not take [pictures] with people anymore and it's because of this dude in Greenville," she ended the post. 
The incident occurred the same week Schumer aired a skit on her show about systemic violence and harassment against women being projected through online channels like Twitter. The skit shows a Twitter representative discussing a new button being added to the social platform, called the "I'm going to rape and kill you" button. 
Just like gun safety, the harassment of women is not something Schumer takes lightly, both in her comedy and in real life. 
The comedian later shared a note on Twitter which read, "I'll still take pictures with nice people when I choose to if it's a good time for that. But I don't owe you anything. So don't take if I say no." 
"There are bigger problems in the world," Schumer admitted, "but this was not right."
Luckily for Schumer, she ended the day on a high note.