PartyNextDoor Released Rihanna's Reference Track for "Work," and It's Shockingly Better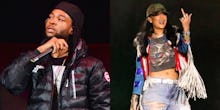 As fans continue to endlessly replay Rihanna and Drake's two-part sexually charged music video for "Work," the first single off the Barbadian-bred hitmaker's game-changing album Anti, her rap counterpart's prodigy has released the reference track which helped the song come to fruition. 
PartyNextDoor, the 22-year-old Canadian singer-songwriter and record producer who works closely with Drake, revealed he originally crooned RiRi's lines in the critical success off her latest solo studio album, which maintained its spot as the #1 song on the top of the charts for nine weeks.
Read more: Rihanna's 'Anti' Defies Every Expectation of What a Rihanna Album Should Be
It becomes clear when listening to the reference track exactly how much is changed before a hit song makes its way to the radio. Surprisingly, or perhaps not surprisingly at all, not much is different from PartyNextDoor's reference track to Rihanna's version of the contemporary reggae single, save for her Barbadian vocal influences and ad libbing hymns. 
Drake appears on the reference track as well, showing the "6 God" rapper took a hand in producing the single from the very beginning. Some lyrics have been removed and replaced, including one moment in which Drake almost awkwardly raps, "You've got a lot on your shoulders/ Listen to me cause I'm older." His infamous line, "If you had a twin, I would still choose you," seemed to find its way into the hit, however.
Meanwhile, Rihanna's version of "Work," including a twerking and joint-filled music video, has surpassed over 300 million views on YouTube and reached No. 1 on the Billboard Hot 100 Chart.