Malia Obama Will Attend Harvard University After Taking a Gap Year From School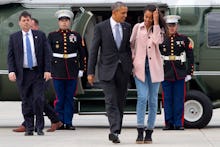 A special announcement came from the East Wing of the White House on Sunday morning, as the Obama family revealed what at least one of them will be doing after packing their bags and leaving the place they've called home for eight years. According to the announcement, Malia Obama will attend Harvard University, beginning in the fall of 2017 as a member of the class of 2021, after taking a gap year off from school.
There were rumblings about where President Obama's daughter would choose to attend college, with reports indicating the 17-year-old had narrowed her list to University of California, Stanford, New York University, Yale, Brown and Wesleyan, among others. Though her father and mother both had critically successful college careers during their time at Harvard, it was not clear she would go there until she wore the crimson-colored Harvard t-shirt during her elite high school's college signing day.
The Obama family has been putting aside money for Malia and Sasha's educations by investing between $200,000 to $400,000 in tax-free savings accounts called 529 savings plans. The plans are established by a federal tax law — a legislation President Obama at one point tried to kill, before hearing backlash from families using it to save for their own children.
"A lot of people couldn't use them because they just weren't generating enough savings to take advantage of the benefit," Obama told students at a community college last year. "Our thinking was you could save money by eliminating the 529 and shifting it into some other loan programs that would be more broadly based." The administration scrapped the bill before it reached the floor. 
The tradition of taking a gap year, either before attending college or at some point throughout a student's educational career, has often been considered a privilege for middle class Americans, though it's quite common for European students to take six months to a year off from their educations for travel or humanitarian experiences.
Malia Obama took some heat online Sunday from both sides of the political spectrum for announcing a gap year, without anyone knowing yet what the first family's oldest daughter will spend her time engaging in over the course of the year. 
"Congratulations to Malia Obama on her gap year. I hope she uses the time to [discover] the mystery that is herself," political columnist and commentator Kurt Schlichter tweeted, alongside a photo of himself in military uniform.
One Twitter user pointed out the obvious fortunate ability Malia Obama has to take a gap year because of her family's status, with Cecily Walker writing, "middle class black parents of college bound students after Malia Obama's announcement: 'You got gap year money?'" 
Still, others pointed out a gap year can be an effective time for young people to gain real-life work experience, as well as improve the communities surrounding them.