ISIS Hackers Just Posted a "Hit List" of 3,000 New Yorkers — and You Could Be on the List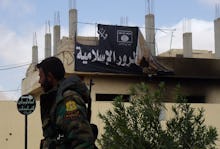 A little-known hacker group with ties to the Islamic State recently posted a list of over 3,000 names and addresses of New Yorkers allegedly being sought by the terrorist sect. The United Cyber Caliphate, as the group is known, published the list to the encrypted messaging app Telegram last week.
The names on the list appeared to be outdated, according to one source who spoke to the Reuters on the condition of anonymity, and included the names of State Department and Homeland Security government employees alongside a host of "average New Yorkers."
One of the men listed, an 88-year old named Art, told NBC News that he was more skeptical of the credibility of the threats than concerned for his own safety.
"It sounds like psychological warfare," he said. "Make 3,000 people in this city very upset."
This isn't the first time an Islamic State affiliate has made threats of this kind.
Last year, a group linked to the radical terror group published a list containing the names of 100 U.S. military service members, beseeching its followers to attack and kill them.
According to NBC, the FBI and NYPD officials are in the process of systematically informing individuals who have been named so as not to cause panic, since there is no direct threat of violence being posed to them. 
In an emailed statement, an FBI spokesman told the Christian Science Monitor: "While our standard practice is to decline comment on specific operational and investigative matters, the FBI routinely notifies individuals and organizations of information collected during the course of an investigation that may be perceived as potentially threatening in nature."
A report from the cybersecurity group Flashpoint investigating the credibility of the threats found that, although the link to ISIS was "of high concern," there was little chance of attacks actually materializing, since the hacking group isn't officially recognized by ISIS and "it is still poorly organized (and likely under-resourced)."
That probably means that there's no need to panic — for now, anyway.
Read more: ISIS Has a New Plan to Raise Money — Parking Tickets