The TSA Made $765,000 From Your Loose Change in 2015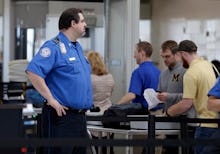 Get the five stories that will challenge you to rethink the world by signing up for MicCheck Daily.
When you throw your loose change in a plastic bin during an airport security screening, did you know that the Transportation Security Administration is using it to line its own pockets?
Though "finders, keepers" isn't a law that's technically enshrined in the constitution, members of the agency have apparently been deferring to the rule for years to keep the coins they inherit on the job. And it's completely legal — a 2013 law passed by Congress enables the TSA financial office to keep the change, as long as it doesn't go directly to individual officers.
So far, the policy has served them well: The TSA said that it netted $765,759.15 in 2015 alone, mostly from forgotten coins.
There are currently more than 19,000 airports in the United States, according to the Department of Transportation, a number which makes the chunk of change seem a bit smaller, all things considered.
But as the rate of air travel in the United States continues to rise, so does the amount of cash abandoned in security lines. The number of domestic and international flights totaled 894,376, 146 in 2015, up from 851,482,663 flights in 2014. 
The TSA said in a statement to USA Today that while it makes every effort to link abandoned cash with its rightful owner, sometimes it just doesn't work, and that's, you know, not the TSA's problem, if you think about it.
"TSA makes every effort to reunite passengers with items left at the checkpoint, however there are instances where loose change or other items are left behind and unclaimed," a TSA spokesperson said. "Receipts of unclaimed money are deposited into a Special Fund account so that the resources can be tracked easily and subsequently expended."
So, by the looks of it, the TSA is mostly doing a combination of sitting on the money and using it to reunite flyers with their lost items. Now, if only we knew what they were doing with all of the confiscated hair spray and sunscreen.
Read more: The TSA's Instagram Is an Unexpected Goldmine of Guns, Weed and Endangered Seahorses