Dashcam Footage Shows Chicago Police Beating Reverend They Claimed Tried to Run Them Over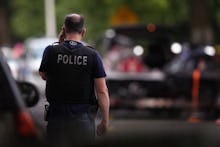 Newly released video shows precisely what happened during a 2013 incident in which Chicago police officers claimed a local reverend hit them with a car, eventually charging her with attempted murder.
The video, courtesy of CBS Chicago, paints a much different picture of what happened to Rev. Catherine Brown, who is black, after her run-in with Officers Jose López and Michelle Morsi-Murphy on May 13, 2013. The clip reveals it was the officers' vehicle that caused the collision. Officers involved can clearly be seen laughing, hitting her car with a metal rod, drawing and pointing firearms, hitting her and using pepper spray.
According to CBS Chicago, Brown said the beating was the result of a traffic dispute after the officers drove down an alleyway heading to her driveway. In her account, the officers immediately escalated what should have been an innocuous traffic maneuver into a full-on screaming match involving firearms and profanity. Brown attempted to drive away, but the driver of the Chicago police vehicle rammed her.
"Beat me down to my underwear, pulled my skirt off me," Brown told the station. "They beat me with the sticks and hit me with their boots in my head."
The reverend was eventually charged with attempted murder after Morsi-Murphy said Brown's car had dragged her down the street, causing the officer to be hospitalized. The charges were later dropped, although Brown was convicted of a misdemeanor charge, reckless conduct.
ABC 7 reported Brown is suing the department.
In 2015, the Department of Justice began a major investigation of the Chicago Police Department over extensive allegations of excessive force and other misconduct. The probe seeks to discover whether the fatal police shooting of 17-year-old Chicago resident Laquan McDonald, which resulted in protests and a $5 million settlement, is tied to "racial, ethnic or other disparities in officers' use of force, and its systems of accountability," NBC 5 reported.