Hershey Bars Might Be a Thing of the Past as Company Sets Targets on Meat Bar Market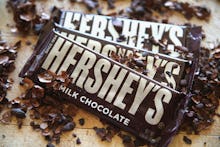 So long, delicious milk chocolate bars. Hello...dried meat and quinoa? Hershey Co., the 122-year-old manufacturer of America's most famous candy bars and all things delicious, has decidedly invested in the future of food in the hopes of revitalizing its profits and getting a jump start in producing what the nation will crave most in the coming years. 
Chocolate, it's nothing personal. In a fascinating report from the Wall Street Journal, Hershey chief executive J.P. Bilbrey said the company is only making the necessary changes in order to compete with the rest of the food industry. According to the report, Hershey Co.'s shares plummeted by 14% last year.
"The category is being impacted by many of the same issues facing other food categories," Bilbrey told the publication. In order to compete with its beef jerky competitors, Herhsey acquired the dried meat company Krave, and is creating a new meat bar after testing some new flavors and seeing a welcomed doubling in sales for the meat product. 
"We aren't going out there saying it is a meat bar. We're saying it is a Krave bar," Bilbrey made very clear with the Journal. "It's not just beef jerky in a bar in your mouth."
The new Krave bars will include fusions of flavor like blueberry barbecue beef, though its unclear how much of a variety the premiere of the dried meat bars will include. These aren't the only new products Hershey is using to steer its base of consumers from milk chocolate: The company is also creating SoFit, a new health bar that will include "sunflower seeds and almonds coated in protein, fruit-flavored protein smoothies in squeezable pouches and snack bars sold only online," the Journal reported.
Get ready to see a whole lot more of this.