Cicadas Were Gone For 17 Years, So John Oliver Had to Get Them Up to Speed On Everything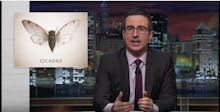 Having been underground since 1999, it's time for cicadas to return to the surface for a chaotic two to six weeks of mating before they die (what a life). Given this limited time, John Oliver wants to be sure they won't waste too much of it getting up to speed on current events from the past 17 years. Thankfully, the Last Week Tonight host put together a brief rundown of events in the world of politics, technology, sports and pop culture — and the world is quite different from what they might recall. 
For starters, we no longer have to dial in for our internet service, and the host explains what YouTube is to the uninitiated. "In fact, you might well be watching this on YouTube, which is a video distribution platform where teenagers become famous for playing video games and opening boxes," he says. 
The Boston Red Sox have finally captured a World Series, but basketball legend Michael Jordan is no longer being renowned for his basketball skills, shedding light on the "Crying Jordan" meme. 
However, the pop culture space might've been the most surprising of all. We no longer show reruns of the once-popular Cosby Show, and the "curly-haired guy" from N'Sync is now one of our biggest entertainers. Of course, Oliver couldn't talk about pop culture without mentioning Beyoncé. 
"The lead singer of R&B group Destiny's Child is essentially our queen now," Oliver says. "On your knees, cicadas! On your knees before the queen!"
As for the next 17 years, and what they could bring to the table? Well, a lot of that could depend on November's election, and if the country is to elect Donald Trump.  
"Enjoy the world while you have the chance, because to be honest, depending on how things go in November, this planet might not be around in another 17 years," he says. "And I do not have time to explain that to you." 
Check out the full web exclusive from Last Week Tonight below: 
Read more: Watch 'Hamilton' Star Lin-Manuel Miranda Rap About Puerto Rican Debt