Carly Fiorina Falls Like a Stone at Ted Cruz Rally in Indiana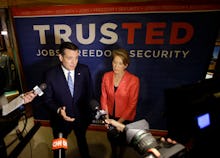 While campaigning for presidential candidate Texas Sen. Ted Cruz in Indiana, California businesswoman Carly Fiorina made a slight misstep.
After introducing the candidate and his wife Heidi and their two daughters, Fiorina took a stumble so sudden it looked like she simply dropped through a hole in the floor. 
WHOOPS!
Fiorina, herself a former candidate for the top job of United States president, was tapped by Cruz last week as a running mate, should he go on to secure the Republican nomination. 
As the last viable Republican contenders not named Donald Trump, Cruz faces a make-or-break moment in Indiana's Tuesday primary. The latest polling indicates the senator is far behind the real estate billionaire in the Hoosier state. It is now mathematically impossible for Cruz to reach the 1,237 delegates required to clinch the Republican nomination on the first ballot, and a Trump win Tuesday would make his path significantly more likely. 
Watch the full video of Fiorina's fall here:
Read more: Ted Cruz Fires Back at Caitlyn Jenner in the War Over Transgender Bathroom Access