Donald Trump Says United States Is Letting China Get Away With "Rape"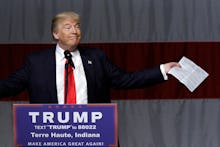 Republican presidential frontrunner upped the ante in his war of words with China on Sunday, charging that the United States was allowing its strategic competitor to get away with "rape" in global trade.
"Don't forget. We're like the piggy bank that's being robbed. We have the cards. We have a lot of power with China," Trump said at a campaign rally in Fort Wayne, Indiana. "When China doesn't want to fix the problem in North Korea, we say, 'Sorry, folks, you gotta fix the problem.' Because we can't continue to allow China to rape our country. And that's what they're doing. It's the greatest theft in the history of the world."
The remarks came two days ahead of the crucial Indiana primary, in which Trump hopes to effectively finish off chief GOP rival Ted Cruz, for whom the Hoosier State is a must-win. An NBC News/Wall Street Journal/Marist poll released Sunday found Trump thumping Cruz 49% to 34%, with John Kasich trailing at 13%.
Read more: Donald Trump Signals His Campaign Against Hillary Clinton Will Be Relentless
In making his pitch to Indiana voters, Trump has doubled down on his populist rhetoric on trade and globalization. For months, the billionaire businessman has railed against manufacturer Carrier, which intends to shutter its factory in Indianapolis and move 1,400 jobs to Mexico.
Trump's hard line against trading partners like Mexico and China may serve him well beyond the primaries, shoring up his bid against likely Democratic nominee Hillary Clinton in economically strained Rust Belt states.
The NBC News/WSJ/Marist survey found that in a general election match-up, Trump would beat Clinton 48% to 41% in Indiana, which President Barack Obama won in 2008 but lost in 2012.