Indiana Is No Guaranteed Firewall for Ted Cruz Against Donald Trump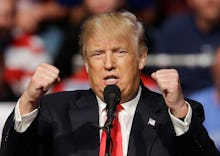 If the polls are right, Donald Trump will be Cruzin' to another big win in Indiana on Tuesday.
The latest Wall Street Journal/NBC News/Marist poll shows Trump with a 15-point lead in the Hoosier State, spelling big trouble for Sen. Ted Cruz and his hopes of slowing the frontrunner's march to the Republican nomination for president.
Read more: Listen to Episode 1 of 'Special Relationship,' a Podcast From 'Mic' and The 'Economist'
The poll found 49% of likely Republican primary voters supporting Trump, versus 34% backing Cruz and 13% choosing underdog John Kasich in Indiana, which will send 57 delegates to the national convention.
In the battle for the 1,237 delegates needed to win the GOP nomination, Trump has racked up 996, followed by Cruz with 565 and Kasich with 153, per a RealClearPolitics count.
Cruz has tried hard to reinvigorate his campaign after a punishing string of six primary losses to Trump.
The Texas senator named Carly Fiorina, the former CEO of Hewlett-Packard and presidential also-ran, as his running mate.
On Friday, Cruz also scored the endorsement of Hoosier State Gov. Mike Pence, who praised him as a Constitutional conservative — but also steered clear of joining the "Never Trump" team.
Cruz's best hope of vanquishing Trump hinges on the idea that no one will reach the 1,237 benchmark through primary wins alone, forcing the GOP to go to an open convention where delegates can be swayed over round after round of voting on a nominee.
Demographically, Indiana could be considered a welcoming state for Cruz: Its GOP electorate tilts strongly to the right and includes a solid sector of evangelical Christian conservatives.
But the latest poll shows Trump gaining significant ground over Cruz in Indiana compared to previous surveys, as the primary cycle draws toward its close.
The last major round of primaries comes June 7, when five states — including California and its 172 delegates — are scheduled to vote. Trump is heavily favored to win the Golden State.