Kansas City Chiefs Draft Tyreek Hill, Expose NFL's Horrifying Record on Domestic Violence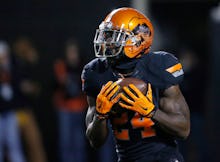 The Kansas City Chiefs used a fifth-round draft pick Saturday to select Tyreek Hill, a former Oklahoma State running back who pled guilty to punching and choking his pregnant girlfriend during an altercation in December 2014.
The move came less than two years after NFL commissioner Roger Goodell gave Ray Rice a paltry two-game suspension for punching his now-wife, Janay Rice, and knocking her unconscious — a widely criticized decision that forced the league to rethink how it confronted domestic abuse.
Now, the Chiefs have reignited the debate with a questionable decision of their own.
"We want people to understand ... we're not going to do anything to put this community or this organization in a bind," Chiefs head coach Andy Reid explained to reporters. "We uncovered every possible stone that we possibly could, and we feel very comfortable with that part of it." 
The explanation came in response to the flurry of negative responses that flooded the team's Twitter account this weekend:
In the course of reassuring journalists and Chiefs fans, Reid declined to say whether the vetting process around Hill — which reportedly included talking to his former teammates and coaches — also included speaking with Crystal Espinal, the woman Hill assaulted.
The Chiefs' move is especially hypocritical in light of recent league policy shifts. Since the aforementioned Rice incident — in which a Baltimore Ravens running back punched his then-girlfriend in the head and dragged her out of an elevator, only to have the NFL cover up incriminating surveillance footage of the incident — the league has been publicly berated into changing its approach to domestic violence.
A set of new conduct policies was implemented in December 2014 to deal with the issue. These included a baseline six-game suspension for players involved in domestic abuse incidents, league-funded counseling and services for victims, families and violators, and procedures for independent investigations into domestic violence incidents and allegations.
But there's no rule against drafting a player with a history of violence against women in his past — or against hiring one. Nor have these new policies stopped NFL players from making headlines regardless: Defensive end Greg Hardy was signed by the Dallas Cowboys in 2015 after brutally beating his girlfriend, an incident that's shadowed talk around him since 2014. A Dallas County grand jury is currently deciding whether to charge ex-Cleveland Browns quarterback Johnny Manziel for allegedly hitting his ex-girlfriend so hard she temporarily lost hearing in one ear. 
Rice, Hardy and Manziel are all unsigned free agents now — a testament, perhaps, to the public relations challenge they present for teams hoping to sign them. Which makes the Chiefs' drafting of Hill especially curious. The 22-year-old running back is currently serving three years probation for attacking his then-girlfriend, but nevertheless managed to be selected by a team that made headlines in 2012 when one of its players, Jovan Belcher, shot and killed his girlfriend before killing himself.
In a culture that routinely excuses violence against women — one that includes a sports media that allowed ESPN's Stephen A. Smith to openly speculate on-air as to what responsibility women have to avoid getting beaten by their boyfriends — the Chiefs' decision isn't entirely surprising. But it is disappointing, and it shows how much NFL teams still have to learn about the seriousness of domestic violence.