Beyoncé Just Became the First Artist to Have Her First 6 Albums All Hit No. 1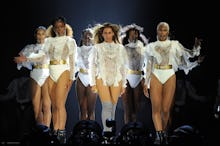 Beyoncé ain't no average R&B singer.
Her life-giving Lemonade dominated nearly the entirety of pop cultural conversation last week, save Friday when the world took a break to make Drake memes. On Sunday, Billboard released its charts for the week ending April 28, and Lemonade is sitting pretty at no. 1. 
Read more: Beyoncé's 'Lemonade' Is What Happens When Black Women Control Their Art
However, this is no ordinary chart-topping. Bey's done it before — six times actually, which is enough to set an impressive record. With Lemonade, Beyoncé has become the only artist to debut at No. 1 with their first six albums.
From Dangerously In Love to B'Day to I Am... Sasha Fierce to 4 to her self-titled, Beyoncé has given fans reason to come back every time. She's transformed herself album to album, gradually infusing more personality into each, becoming more confessional and more confrontational. In her later works, she's reinvented the whole industry along with it. 
The only two places Lemonade is available are on Tidal and for sale in the iTunes store. From both those sources, Beyoncé managed to move 653,000 album-equivalent units, with 485,000 coming from pure sales according to Nielsen Music. It makes Lemonade's release the biggest week of any album in 2016 so far.
The only other artists close to Beyoncé's record are rapper DMX and folk group the Kingston Trio. Both managed to get their first five albums to number one, but DMX's sixth album Year of the Dog ... Again debuted at No. 2 and never summited, while Drake's If You're Reading This, It's Too Late, only hit No. 4.