This Beauty Pageant Crowning Gone Wrong Is the Most Awkward Thing You'll See All Day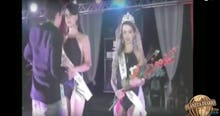 Uneasy lies the head that wears the wrong crown. 
In the case of the Miss Rondonia Mundo beauty pageant in northwestern Brazil on Sunday, Leticia Cappatto was especially uneasy. Not only did the crown go crashing to the ground after being placed on her head... but it wasn't even her crown to begin with. 
After it was recovered and put back on Cappatto's head, organizers immediately removed it, saying a mistake had been made. 
Her running mate Karliany Barbosa was, in fact, the winner.
Another painful moment ensued where one of the women holding the crown dithers back and forth between the two contestants, uncertain of its home.
Barbosa, after being announced the true winner, is visibly uncomfortable, while Cappatto is so angry, she initially swats away the runner-up sash.
"I didn't know what to do when it happened," Cappotta said, according to the Daily Mail. "It felt like I was taking part in a scene from a film. I just wanted to leave that place. I felt humiliated."
If this scenario feels familiar, it could be because something painfully similar happened just months ago, albeit on a much larger stage. In December, Miss Universe host Steve Harvey accidentally named Miss Colombia the winner when Miss Philippines was, in fact, the rightful wearer of the crown. 
Cappotta floated the idea of taking legal action. It's so uncomfortable to watch, there should be compensation for the viewer, too. 
Read more: Oh God. Steve Harvey Just Named the Wrong Winner of the Miss Universe Pageant