Drones Perform Ballet With 16,500 LED Lights in Front of Mount Fuji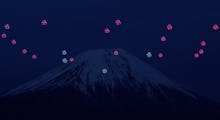 Watch 16,500 LED lights dance to the sounds of traditional Japanese guitars called shamisens against a backdrop of Mount Fuji and a Japanese night sky in a new video created by MicroAd's Sky Magic drones, according to the Verge. 
MicroAd filmed the mesmerizing "ballet" to show drones' entertainment possibilities for events like festivals, rather than their more militaristic uses, Mashable reported. In other words, instead of fireworks, imagine these LED-coated drones. 
MicroAd used a squad of over 20 drones for the almost three-minute-long video. 
At the end of 2015, Japan rolled out a strict set of laws regarding drones, banning them at big social gatherings like sports games or festivals, according to Digital Trends. 
Still, using drones for entertainment purposes is a trend that's picking up speed. In January, The Walt Disney Co. applied to the Federal Aviation Administration to allow its parks to use drones for its shows, according to the Orlando Sentinel.