6 Times Samantha Bee Proved She's the Best Host of Any Gender in Late Night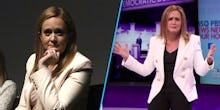 Samantha Bee is killing the late night game. There's no qualifier needed there: She's proven herself to be working on a completely different plane from the other boys of late night comedy.
She's not just a great late night host because of how briefly she's been on the air, though it's true that her TBS show Full Frontal is remarkably assured for being just three months old. She's not just a great female late night host, though her gender gives her a unique viewpoint on issues that literally none of her competitors have.
Read more: Stop Comparing Samantha Bee and Trevor Noah — They Can Coexist in Late Night
Bee is truly the best late night host working today — the funniest, the smartest and the most vital to watch. Here are just six examples of why.
She goes after John Kasich with fervor.
Throughout the circus otherwise known as the 2016 Republican primaries, candidate John Kasich has fallen mostly under the radar as the humble moderate. This is simultaneously bad for winning the Republican nomination and good for looking like a human in comparison to Donald Trump and Ted Cruz.
However, Kasich has been notably terrible on talking with and about women. His "advice" to women to avoid getting raped — "Don't go to parties where there's a lot of alcohol" — was sexist and, unfortunately, not out of step with his usual comments. Kudos to Bee for zeroing in on "the real Kasich" and his policies that put him in a different, immoderate light.
She speaks at length with people she disagrees with.
Part of the new era of late night — a period with roots in Jimmy Fallon's Late Night but that began in earnest when James Corden took over The Late Late Show — is a permeating sense of congeniality. Nothing's too confrontational; everyone sings together, plays games, etc. Even John Oliver, he of destroying everything, stays pretty friendly by virtue of not having guests on Last Week Tonight. Jon Stewart putting Judith Miller on blasts feels like a forgotten relic.
Bee, however, rejects that friendly vibe and regularly returns fire. She has tough conversations with people with whom she agrees with on absolutely nothing — like Texas state Rep. Dan Flynn, who she talked to during a segment on Texas abortion clinics. But her willingness to talk with people who don't share her views doesn't make her hostile.
"This is not going to be easy to believe, but [Flynn and I] actually had a really great conversation," she said at a Tribeca Film Festival panel for the show in April.
"We disagreed with each other on absolutely almost everything," she added. "Well, everything politically we very much disagree on, but as people we're agreeable."
She'll call a former president a "genocidal prick."
Bee has never heard of polite reverence, and thank God she hasn't. When the Department of the Treasury announced Harriet Tubman would appear on the $20 bill, Bee was brutal in her dismissal of any kind of respect-for-Andrew-Jackson narrative.
"He was not a Founding Father," she said of the former president. "He was a genocidal prick who forced the relocation of nonwhites and fomented populist rebellion. Kind of like a Trump with better hair."
In keeping with her willingness to have uncomfortable interviews, Bee is also willing to speak her mind in a way other late night hosts (besides Oliver and sometimes Trevor Noah) won't. That extends not just to dead presidents, either, but also to living lawmakers.
Her takedowns are brutal.
As Mic's Manuel Betancourt previously wrote, Bee's feminist brand of insult comedy is what makes Full Frontal work. She tears into dead presidents, presidential candidates, bad laws — and the people who make those bad laws.
On the April 18 episode of Full Frontal, Bee took North Carolina state Rep. Jeremy Durham to task for his architecture of the notorious anti-trans bathroom bill HB2. Of particular note: Durham previously was accused by several women of sexual harassment.
"Tennessee's self-appointed ladies room bouncer has been deemed such a risk to women that he needs a whole separate building to protect female colleagues from him," Bee said in her deliciously vicious segment. "But he's still a champion of protecting children from sexual predators, right?"  
She affected change on a case of untested rape kits.
While Bee's show serves as entertainment, it's also proven to actually make change in the world. A March clip about untested rape kits in Georgia shed a light on a severe backlog of testing in the state. Thanks to the attention created by Full Frontal, a bill to fix the problem got through.
"At the 11th hour, after our piece ran, it got a lot of attention and they managed to get it passed by attaching it to another bill ... in a way that it wouldn't go through committee, so [it] would just get an up or down vote without going up in this committee," she said at her Tribeca event. "The supporters were tweeting at us and letting us know," she added.
Going viral with a takedown is one thing. Changing things for the better is another, and that sets Full Frontal apart.
She deals with with even the most stubborn of audiences.
"I'm not here to bash Bernie," Bee said at the top of a segment in which she talked to incredibly positive Bernie Sanders supporters about their candidate's flagging presidential hopes. "I'm just here to understand your optimism, stick my fingers in, roll it around in my hands and restore myself to the person I used to be."
Indeed, whether she's explaining why they're wrong about superdelegates or trying to understand their belief in a losing candidate, Bee has remained patient with Sanders fans. She's managed to challenge Sanders' credibility as a candidate without falling into a trap in which she could be called biased. She's mastered how to, with great humor, tell unconventional or unpopular stories in a smart way.
Most impressive of all, Samantha Bee walked away from a conversation with stubborn Sanders supporters, fighting against logic and mathematics, inspired by them. As she put it, "I respect these people's unshakable willingness to dream big." If that doesn't convince you she's late night's superior host, nothing will.