The FBI Thwarted a Plot to Bomb a Florida Synagogue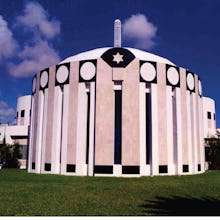 On Friday night, FBI authorities arrested a man allegedly attempting to carry out a deadly terrorist attack on Aventura Turnberry Jewish Center, a synagogue in Miami. 
James Medina, 40, allegedly intended to use a "weapon of mass destruction," according to the Miami Herald, to execute a bombing during the synagogue's crowded Friday services. Officials suspect Medina's plot was motivated by anti-Semitism. 
Read more: People Are Leaving Severed Pigs Heads in Mosques
The center's rabbi, Jonathan Berkun, and executive director, Elliot Karp, explained in a Facebook post that the FBI agents arrested Medina on "well-founded" terrorism suspicions. 
"They assured us that the synagogue and school were never at risk at any time during the investigation and arrest, and that there are no credible threats directed against us at the present time," they wrote.
Berkun and Karp emphasized that they are working with local law enforcement to ensure the safety of their community members.
The Herald reported authorities held Medina at Miami's Federal Detention Center over the weekend and that he will appear in court on Monday to face charges.