Khloe Kardashian Says She No Longer Has a Relationship With Caitlyn Jenner on 'KUWTK'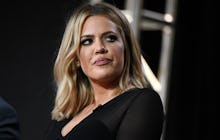 Sunday night's premiere of Keeping Up With the Kardashians came with the mediocre explosion of drama that has kept the family firmly in the American spotlight for nearly a decade. 
One revealing moment of some complicated family relations came when Khloe Kardashian lambasted Caitlyn Jenner for words she said about Khloe's mother and manager Kris Jenner during Caitlyn's candid transition announcement interview with Diane Sawyer. Khloe then said she no longer has a relationship with Caitlyn. 
"She was like, 'What happened to family sticking together?'" Khloe told her mother about what Caitlyn had to say after hearing her on The Howard Stern Show discussing Caitlyn's transition. "I said, 'You slaughtered my mother, and you have the nerve to say, 'What happened to family sticking together?' I said, 'You jumped that ship as soon as you did Diane Sawyer, and you attacked my mom!'"
The 31-year-old continued to complain to her mother that Caitlyn said "shut up and get a life," which Khloe was having absolutely none of, responding, "You get a fucking life."
The drama is incredibly real. "She can tell me to fuck off all she wants. I don't have a relationship with her. I'm done," Khloe said, effectively ending her relationship with Jenner, at least for the shock value of the first episode of season 12.
Since filming that scene, Khloe and Caitlyn have been seen celebrating together at Kanye West's The Life of Pablo and Yeezy Season 3 launch at Madison Square Garden.
Read more: Khloé Kardashian Uses a "Sex Calculator" to Lose Weight — But Is That Actually a Thing?