These Musicians Are Carrying the Torch for the Legends We've Lost in 2016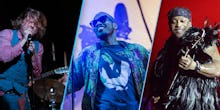 Get the five stories that will challenge you to rethink the world by signing up for MicCheck Daily.
We're only five months in and we've already lost enough talent to make this one of the most heartbreaking years in recent memory. David Bowie, Phife Dawg of A Tribe Called Quest, Prince; each of their deaths has been a crueler surprise than the last. 
They were all genuinely unrivaled innovators for their respective genres. They have all inspired countless artists to pursue music and to seek to match the greatness they left behind. Some of their proteges have already established themselves as fit to shoulder the artistic burden left uncarried in the wake of their passing; others are still on the proving grounds. 
Supporting the artists below — one established and one up-and-coming corresponding to each of the major innovators we've lost — is perhaps the best way we can perpetuate the legacies of the visionaries whose music changed the world in so many ways. They may have passed, but through these people, their work lives on.
David Bowie
From psychedelic crooner to glam pioneer to electronic mystic, few artists have ever been able to reinvent themselves as wholly and frequently as David Bowie. He did whatever he had to do in order to complete those transformations — bending genders, musical forms and all the public's expectations to make them whole.
Ty Segall is continuing Bowie's spirit of musical shapeshifting in a big way. He hails from the California garage rock scene but has dabbled in glam, doom and psychedelic folk over the past 8 years. In 2014, he charged through a series of Bowie covers to help Chicago celebrate its David Bowie Day, honing a punk edge onto "Ziggy Stardust" and "Suffragette City."
Take or leave Lady Gaga's hectic blitz of a Bowie tribute at the 2016 Grammys; however, it's hard to find a top-tier celebrity who is as willing to take the sort of massive creative risks Bowie did throughout his music career. "I feel like my whole career is a tribute to David Bowie," Gaga told NPR in February. It'll be interesting to see if that dedication will shape the next chapter of her career when her sixth studio album drops later this year.
Phife Dawg 
The genius of A Tribe Called Quest's music was its ability to merge hip-hop's several competing influences into a singular, jazzy entity. Q-Tip represented the genre's philosophical and poetic ambitions; Phife Dawg narrated its street-wise stories with a playfulness and humor that remains a vital element of many hip-hop styles today.
Homeboy Sandman has been releasing clever, understated gems through Stones Throw Records for years. His latest cut, "Talking (Bleep)," finds the MC harping on whack fans and whacker music industry politics over a trumpet-riddled instrumental. It feels at times like a fitting spiritual successor to "Check the Rhime" or a "Buggin' Out."
Few can make a punchline do more work than Chance the Rapper. The 23-year-old MC has been making waves with bars that unveil the realities of life in Chicago's streets and some of the most entertaining couplets the genre's heard. He managed to meet and take "mental notes" from Phife before his passing, as Chance shared in an Instagram tribute to the artist. 
Prince
It doesn't feel like a stretch to say Prince will be remembered as a Jordan, Shakespeare and Einstein-caliber name in funk. The mysterious genius mastered nearly every instrument he could to record his genre-defying fusions, which seemed to come to him effortlessly. He prolificacy was mind-boggling, and his best music may still lie unlistened-to in his Paisley Park vaults.
Anderson .Paak has been able to tap into something akin to Prince's chameleonic style. He can move fluidly through hip-hop, R&B and EDM, and every track the young singer, rapper and drummer blesses with his funky rasp becomes his own. 
After Prince's death, the man the world most needed a tribute from was D'Angelo. The soul singer, who returned from a long hiatus in December 2014 with the beautiful and brutal Black Messiah, has long upheld a similar dedication to virtuosic musicianship and genre-blending to that of Prince. His rendition of Prince's "Sometimes It Snows in April" on The Tonight Show Starring Jimmy Fallon is proof that Prince's subtle funk will live on in good hands.