Indiana Republican Primary 2016: Latest Polls and What to Expect in GOP Race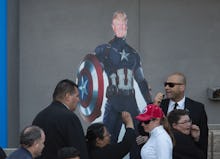 Indiana is known for its car racing, its farmland and its factories. It may also be remembered as the site of Ted Cruz's last stand.
Cruz has been banking on a win in Indiana to bolster his dream of capturing the Republican nomination for president. He needs the state and its 57 delegates more than ever — but if he gets them, it'll be in an upset.
Read more: Indiana Democratic Primary 2016: Latest Polls and What to Expect in Clinton-Sanders Race
The Hoosier State has a substantial evangelical Christian population in its GOP primary voter ranks. That group has been a big source of support for Cruz, but this cycle, they have not rejected Trump in Cruz's favor to the extent he might have liked.
Indiana is also home to more than half a million plant workers. As the Indianapolis Star reported, "[I]t's a voting bloc large enough to sway the outcome of an election" — and deeply concerned about the future of U.S. manufacturing — but there's no easy way to predict how they'll vote.
Cruz does have Indiana Gov. Mike Pence behind him. A day ahead of the primary, the campaign rolled out a new 30-second ad featuring Pence lauding Cruz as willing "to stand up for taxpayers in opposing runaway spending, deficits and debt, and calling for and leading on repealing Obamacare."
Left out: Pence's praise — offered during the same radio interview — for Trump's having given voice to the "frustration of millions of working Americans" sick of a stagnant Washington, and his refusal to sign on to the "Stop Trump" movement.
Trump Train: Pence's reluctance brings home why Cruz may have trouble making the sale on Tuesday.
Big-city billionaire Trump may be dismissed as a poser RINO ("Republican in Name Only") by detractors who say Cruz is the truest conservative in the race. But Trump's potent combination of fame, populist drum-beating and pure delight in eviscerating his rivals has earned him 996 of the 1,237 delegates he needs to become the nominee — a good chunk of them in a six-state primary sweep that's left Cruz reeling.
Cruz's conundrum: As Trump won his home state of New York in a landslide and prepared to clean up in the so-called "Acela Primary" in five northeast states, Team Cruz was cutting a deal with the John Kasich campaign.
To slow the Trump juggernaut, Kasich announced plans to focus his time and resources on later-voting western states including New Mexico and Oregon, ostensibly clearing the way for Cruz to take Trump on in Indiana.
Still, recent polls show Trump up over Cruz in Indiana by an average of 9.3 percentage points per RealClearPolitics.
If those figures translate into another big Trump win, it's a gut punch to Cruz's argument that he can still overcome Trump either at the ballot box or in a delegate fight at an open convention.
Polls in Indiana open at 6 a.m. and close at 6 p.m. local time. The state is divided between the Eastern and Central Time Zones.