Indiana Democratic Primary 2016: Latest Polls and What to Expect in Clinton-Sanders Race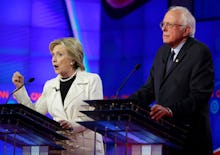 In Indiana, the script has been flipped.
The state's Democratic primary on Tuesday comes nearly eight years to the day after Hillary Clinton notched a razor-thin victory over Barack Obama there during her first presidential bid. But Clinton needed a landslide win to change the contours of the Democratic race, and her Hoosier State squeaker cemented the conventional wisdom that Obama was virtually certain to clinch the party's nod.
Read more: Indiana Republican Primary 2016: Latest Polls and What to Expect in GOP Race
Eight years later, it's Clinton whose delegate lead is so overwhelming that she can afford a loss in Indiana, while Vermont Sen. Bernie Sanders needs nothing less than a blowout to have even a prayer of winning the nomination. With 2,165 delegates to Sanders' 1,357, Clinton needs less than 18% of the remaining delegates at stake to secure the 2,383 delegates required to win the nomination.
With 83 pledged delegates at stake in Indiana, Clinton is likely to edge Sanders on Tuesday, one week after besting him in four of five mid-Atlantic primaries. Surveys show Clinton with a modest-but-durable lead over Sanders in Indiana, with the RealClearPolitics polling average giving her a 50% to 43% edge.
Behind the numbers: A recent CBS News/YouGov survey illuminated the dynamics behind Clinton's lead.
The poll, which found Clinton leading Sanders 49% to 44%, showed Sanders ahead overwhelmingly among voters under 45 (69% to 21% with those younger than 30, 55% to 41% with voters 30-44), and narrowly among whites (48% to 44%) — but losing every other demographic group.
Not only did Clinton lead 49% to 41% among women; she also edged Sanders 49% to 47% with men. Meanwhile, older voters backed her nearly two-to-one, as did black voters. Blacks comprised just 15% of the Democratic primary electorate in 2008, but given the closeness of the race among whites, Sanders may struggle to overcome the in-built advantages of the Clinton coalition.
Sanders the sleeper? If Sanders does pull off an upset, however, it will likely have been powered by his populist economic pitch. The planned shuttering of Carrier's manufacturing plant in Indianapolis — and the disappearance of the plant's 1,400 jobs — have stoked heightened suspicion of free trade and globalization, bugaboos shared by both Sanders and Republican frontrunner Donald Trump.
Clinton has backtracked on her past support for the Trans-Pacific Partnership free trade agreement, but Sanders has repeatedly hammered Clinton over her record on the issue.
The potency of those attacks may be limited, however. Though Sanders scored a shock win in the Michigan primary, he has lost handily elsewhere in the Rust Belt, going down to double-digit defeats in Ohio and Pennsylvania.
The final poll closures in Indiana will come at 7 p.m. Eastern.