Hillary Clinton Beats Bernie Sanders in April Fundraising Race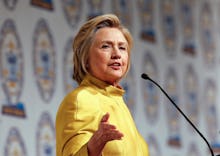 Democratic presidential frontrunner Hillary Clinton eclipsed rival Bernie Sanders in campaign fundraising last month, besting the Vermont senator's grassroots army, following a series of primary victories.
Clinton raised $26.4 million for her campaign last month, edging Sanders' $25.8 million in receipts, per the New York Times. The former secretary of state also raised $9.5 million for down-ballot Democratic candidates, as part of a joint fundraising program in which Sanders hasn't participated.
Read more: Bernie Sanders Is Calling for a Contested Democratic Convention
The figures follow three consecutive months in which Sanders out-raised Clinton's campaign, powered by support from small donors. During the first quarter of 2016, Sanders raked in $109 million to Clinton's $74 million, CBS News reported.
Overall, Clinton has raised $213.5 million in primary campaign funds to Sanders' $210 million, the Times reported.
In March alone, Sanders collected $44 million in campaign donations, with an average contribution of $27. Clinton, by contrast, raised $29.5 million in March.
While Sanders kicked off April with a landslide victory in the Wisconsin primary, Clinton cemented her frontrunner status with resounding victories in New York on April 19 and four Eastern states on April 26.
Clinton's Empire State win denied Sanders the game-changing narrative he needed, likely contributing to his drop-off in campaign fundraising.
"Thanks to 1.2 million people across the country, we have the resources we need to continue to run a winning primary campaign while preparing for the general election," Clinton campaign manager Robby Mook said in a statement Monday.
For his part, Sanders plans to remain in the race through the final primary contests on June 7, even calling this weekend for a contested Democratic convention in July.
On Tuesday, Clinton and Sanders will face off in the Indiana primary, where the RealClearPolitics polling average gives her a 50% to 43% lead.