These Arizona High School Students Fought to Take Down a Slut-Shaming Dress Code Poster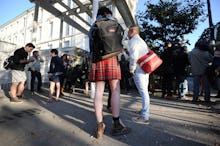 When students at Desert Ridge High School in Mesa, Arizona, saw sexist dress code posters in the library, they decided to rally for their removal — and succeeded. 
The posters, which were plastered all over the school library, implied that female students wearing revealing clothes are the reason for male students' poor academic performance, ultimately resulting in decreased job opportunities and lower income for men. 
"So you think you come to school looking pretty cute, but what the boys see is meat, and it's distracting," the poster reads, accompanied by cartoon images of young, scantily-clad high school girls and a lascivious "wolf" meant to represent young boys. 
The poster then depicts an "underemployed" slob in his underwear next to a stressed-out working woman, the implication being that the woman must now financially support the man because she distracted him by dressing too sexy at school. 
Several outraged students tweeted pictures of the poster last week, including senior Alissa Adams, 18, who took a pen and scrawled "So it's the girl's fault, right? #Feminism" on the library poster. Adams tweeted that the school librarian dismissed her complaints about the poster and folded the handwritten message out of sight. 
A spokesperson for Desert Ridge told ABC News that "no one knows who actually made the poster." The sign was promptly taken down following the controversy.
Although the poster was clearly intended in jest and it's unclear who actually put it up in the first place, the message in the image is sadly familiar: Young women are told to cover themselves up to avoid tempting young men, while men aren't held to the same dress standards. The fact that the school librarian thought it was appropriate to keep the image on the wall reflects just how normalized such thinking is in school settings, despite the obvious double standard at play. 
A quick memo to whoever made the poster and put it in a public school library: Women's clothing does not determine men's behavior. Men are responsible for their own behavior, regardless of how "cute" a girl might look. Period.
h/t ABC15