New Free Messaging App Privates Has All the Features Snapchat Users Have Been Waiting For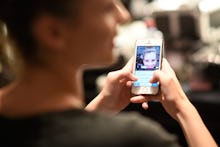 Snapchat is great for people who want to send ephemeral selfies and Signal is a hotspot for borderline-incriminating messages — but what if you accidentally send something to the wrong person? There's now an app for that. 
Privates is a free iOS messenger app that claims it has "ultimate screenshot protection," but the real hidden gem is that it lets you delete a text after you send it. One stipulation — it only works if the recipient hasn't opened the message yet. No, you can't go back and delete those drunk messages when you roll out of bed and scroll through your phone the next afternoon, but yes, you can delete a message immediately after sending if you accidentally sext your grandma instead of a booty call, for example. 
It's pretty simple: In your sent messages, if the recipient hasn't opened the message yet, there will be a recall button you can click to delete the message. If they've already read it, sorry — no takebacks. 
"Who hasn't run into an issue when they messaged the wrong person ... lol," Privates CEO and co-founder Dr. Isaac Datikashvili said in an email. He also said in a Privates message that the app is for anyone looking for "a little more security and peace of mind" when it comes to messaging. 
I can confirm — it is incredibly easy to recall a message if the recipient hasn't opened it yet. It's also damn difficult to screenshot a Privates message. And trust me, I tried. A lot. To read a message, you have to constantly tap down on a green button as the time allotted counts down, and with camera and motion security features, you also have to have your face in view of the camera at the same time. Good luck trying to screengrab a message. Your Privates profile also shows your number of violations, or how many times you've tried to take a screenshot of a message. "Make sure this person is trustworthy!" the app feature says. No screenshot left behind. 
Snapchat lets users screenshot messages, but tells the sender that the recipient screenshot their message.
Surprisingly, this app wasn't designed with text-happy teens in mind — it was inspired by aspiring doctors. Datikashvili, who runs an emergency dental practice and teaches at New York University, said in a Privates message that he started the app after his students who were advising emergency patients realized there was no Health Insurance Portability and Accountability Act-compliant app for doctors and patients. Datikashvili said Privates is HIPPA-compliant and meets compliance for attorney client privilege as well. 
But based on the bubbly egg-in-sunglasses logo and chirpy user interface, Privates isn't just for the medical community. Datikashvili said it's being used by teens, lawyers and doctors alike. Enjoy your total recall.