This Man Accidentally Fired His Gun During a Children's Swimming Lesson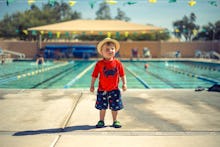 A man with a concealed-carry permit accidentally discharged his gun, which was in his back pocket at the time, during a children's swimming lesson at the University of Charleston in West Virginia on Friday evening.
On Saturday morning, 41-year-old Lloyd Simms turned himself into the local police department, claiming responsibility for the incident. 
Jackie Kay, the mother of the 17-year-old woman who was teaching the children's class, explained her daughter's account of the incident:
"This man was sitting not two feet away and his gun went off," Kay said, according to the Charleston Gazette-Mail. "She said he had a huge hole in his pocket."
"Everyone was upset — it could have been a terrible tragedy for many people," Kay added.
"Firearms are not allowed on our campus," Dave Traube, Director of Communications at UC, told WSAZ. "It's a very serious situation, just the fact that it was there."
According to Traube, Simms is the guardian of one of the children who was partaking in the swimming lesson. However, Simms is now banned from the campus. 
Read more: 23 Reasons Why We Definitely Don't Need Any Gun Safety Reforms Ever