Here's Why We Need Mental Health Action — Not Mental Health Awareness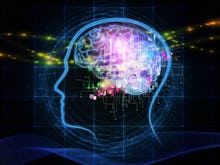 At 15 years old, Natalia Nodiff ended up in isolation at a Massachusetts psychiatric ward — the mental health equivalent of solitary confinement — for consoling another patient.
Nodiff, who is half Indian, was admitted after experiencing psychosis. When she extended a sympathetic hand to another patient — a young white woman — the woman complained to hospital staff. Though Nodiff had no record of aggressive behavior and had shown no signs of aggression in the hospital, staff deemed her a threat. They secluded Nodiff in an isolation room at the center of the U-shaped medical unit behind the nurse's station. Nodiff sat in the room alone, highly medicated.
Thirteen years later, Nodiff considers this her first experience of trauma.
"Mental illness is not just scientific disease — it's human suffering," said Nodiff, an activist with the Icarus Project, a support network for people who "experience the world in ways that are often diagnosed as mental illness."
Every year since 1949, nonprofit organization Mental Health Awareness has sponsored Mental Health Awareness Month, jostling for attention with one of more than 25 causes in May. The campaign seeks to decrease the stigma around mental health and encourage treatment. But the spotlight advocates shine on the issue exposes cracks in the mental health care system, which victimizes minorities as often as it helps them. Mental Health Awareness Month should be as much about fixing the system as it is about shepherding people into it.
Nodiff said her early encounter with the mental health system showed her how ill equipped it is to serve marginalized communities. Starting with access, through diagnosis and treatment, the mental health system pathologizes and further disenfranchises people of color. For many minorities, the mental health system, the criminal justice system and foster care system are one and the same.
Minorities' experiences with these institutions stops them from getting treatment in the first place. While it's hard to say with precision how many people of color go untreated for mental illness, people of color are not receiving the care they need. Because of a history of mistrust and misdiagnoses, only 20% of black adults seek mental health care. Latinos seek treatment at half that rate. Asians are the least likely racial group to access services — only 5% of Asian men and 4% of Asian women seek the help the need.
People of color's reluctance to seek treatment may stem from lack of awareness, but minorities are rightfully distrustful of accessing care. Agustina Vidal, programs coordinator at Icarus Project, said awareness campaigns that only encourage people to enter the medical system often put people of color in harm's way.  
"[These campaigns] say, 'I'm depressed and I got help and you can get help too.' We need to be careful because if I'm saying that to a black woman I'm putting her at potential risk," Vidal said to Mic in a phone interview.
While people of color of all backgrounds face negative consequences when interacting with the mental health care system, consequences in America for black people are often the most severe.
Racial bias and stereotyping lead health care providers to perceive black people as "aggressive" and misdiagnose them as schizophrenic. A recent study found black patients were 2.7 times more likely to be diagnosed with the mental illness than white patients. People of color who express frustration with racial discrimination to their therapist's face being pathologized with diagnoses such as: panic disorder, posttraumatic stress disorder and substance use disorders. For many, diagnosis is the first step to getting treatment, but a black person diagnosed with mental illness in America is more likely to face punitive consequences once in the system.
Required by law to report child abuse, mental health professionals disproportionately report people of color for child abuse. A 2002 study found that, in Illinois, black parents are reported to child protective services at three times the rate of white parents.
For black women, racist assumptions become racist realities. They become "unfit mothers" and are separated from their children, who enter foster care. According to a 2012 study in Child Abuse & Neglect, black children and children of mothers with mental illness are both at higher risk for entering the foster care system, a system that can itself cause trauma. Though they only make up 14% of children, black children make up 24% of children in foster care. 
While black women face run-ins with the foster care system, black men diagnosed with mental illness are more likely to be ushered into the criminal justice system, according to the American Psychological Association. Rather than getting treatment, black men get incarcerated. A 2014 report from the National Research Council reported 64% of people in local jails and 56% of people in prisons exhibited symptoms of mental illness.
"A lot of people are really struggling with societal — not individual — problems."
People of color who do see a mental health professional are very likely to meet someone who has no idea what it is like to face racism on a daily basis.
"A lot of people are really struggling with societal — not individual — problems," said Ann Marie Yamada, a professor of social work at the University of Southern California. "Mental health traditionally has not been set up to look beyond mental capacity."
Nodiff said talking to therapists about racial discrimination has been the hardest challenge for her as someone living with a mental illness.
"It's difficult not just because it's uncomfortable to talk about it, but because they don't seem to know how to respond to it," she said. "That's something ongoing that continues to come up. There are cultural differences that white, the kind of white training and therapeutic training doesn't necessarily address."
Studies have long shown that structural racism pollutes mental health in communities of color — a phenomenon Yamada has witnessed firsthand.
"We're not paying enough attention to the stresses and traumas that people face on a day-to-day basis," Yamada said. "It's a mental warzone for [people of color] and it requires the same time and attention that we give to veterans."
But whereas soldiers are deployed to war zones and some return, the warzone for people of color is all around them. Because the mental health issues that people of color face are structural, they require structural change.
"What about people who live in communities that are unsafe or threatening? That their friends are getting killed? That they have children that they fear for them when they go out and not know if they're going to come back? How is that not going to create mental health problems in people?" Vidal said.
"It's a mental warzone for people of color and it requires the same time and attention that we give to veterans."
Nodiff now lives on her own and is attending college — something psychiatrists told her she would never be able to do with her diagnoses. Nodiff proclaims those diagnoses were made without social context and were, thus, false.  
"I think that, for me, a lot of my issues do boil down to social issues," she said. "And they are not just in my brain."
Like Nodiff, not all of people of color's mental health issues can be reduced to brain chemistry. Because social realities cannot be divorced from mental ones, mental health awareness actually means awareness of inequalities — economic, racial and social. A call for mental health awareness is really a call for action on behalf of marginalized communities.
"We need to heal the community to heal ourselves," Vidal said. "We change ourselves through changing the world around us. Social justice and mental wellness cannot be separated."