The Misty Copeland Ballerina Barbie Is Coming — Here's Why It's So Awesome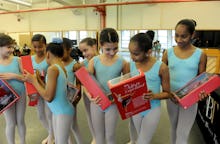 History-making ballerina Misty Copeland will be receiving a Barbie doll in her honor, according to ABC News. 
Copeland's doll will be a part of the Barbie Sheroes program, which honors, "female heroes who inspire girls by breaking boundaries and expanding possibilities for women everywhere," according to a press release. 
Mattel felt like Copeland was "at the center of a cultural conversation around how women continue to break boundaries," Lisa McKnight, who is senior vice president of Barbie, said in a press release. "As a brand, we want to honor women, like Misty, who are inspiring the next generation of girls to live out their dreams," she added. 
Other Sheroes dolls are Zendaya, Emmy Rossum and Eva Chen.
"I always dreamed of becoming an ABT ballerina and through Barbie I was able to play out those dreams early on," Copeland said. "It's an honor to be able to inspire the next generation of kids with my very own Barbie doll."
Copeland's doll will wear her Firebird costume, which was her first as a principal dancer at the American Ballet Theater, according to ABC News. 
Last July, Copeland became the New York's theater's very first black female principal dancer, which was revolutionary, since ballet remains a field where racial diversity is lacking. "It's important for me to set an example of what a healthy image is, what a ballerina can be — that she doesn't have to be a white woman that's rail-thin," Copeland told Time in April 2015.
Read more: Barbie Brandy Isn't Just Cute AF — She's Also Got A Message About Beauty Diversity