In Blue States, Abortion Clinics Are Shutting Down — But Not for the Reasons You May Think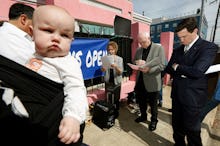 In recent months, a wave of Targeted Regulation of Abortion Provider laws — omnibus bills that attempt to force the closure of abortion clinics by slapping them with unrealistic operating obligations — has swept the South. In the north, too, certain states — Indiana — have also approved hyper-restrictive TRAP measures designed to keep women from legally terminating pregnancy. But while anti-abortion activism has traditionally been the domain of red states, as FiveThirtyEight reported, clinics in blue states are also feeling the hurt.
"We are a dying breed," Shauna Heckert, executive director of Women's Health Specialists of California, told FiveThirtyEight. Six abortion providers comprise her organization in a state with the best women's reproductive rights in the nation, according to NARAL Pro-Choice America. The reason, Heckert said, was mostly economic. 
In California, 12 abortion clinics have closed since 2011, according to Bloomberg. In those Democratic-voting, NARAL-approved states for women's health — Washington, Oregon, Connecticut and Hawaii — closures were most often business-related, based on Bloomberg's data. This is because clinics try to keep the cost of the procedure down to accommodate the people who typically get them — poorer women who don't necessarily have insurance or who are Medicaid patients. 
Because Medicaid only covers abortion costs — an average of about $500 — when the mother's life is at stake or when pregnancy resulted from rape or incest, according to FiveThirtyEight, most providers don't even try to get Medicaid to cover qualifying cases because it's prohibitively difficult. More often than not, clinics eat the difference, and those costs pile up. 
But there's another reason abortion clinics are going out of business — demand for their services is down. States with looser abortion regulations tend to see fewer abortions, likely because they offer easier access to contraception. That's the silver lining: Investing in reproductive health services is helping to make abortion obsolete, the single best argument for funding organizations like Planned Parenthood that provide sex education and birth control for all.
h/t FiveThirtyEight
Read more: The Fight Over Planned Parenthood Isn't About Women or Children — But They Lose Every Time