Someone Invented a DIY Mouse Trap That Solves the Animal Cruelty Problem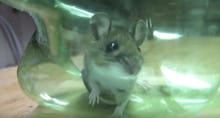 Old-fashioned mouse traps are horrifying. 
Now there's a humane mouse trap that uses physics — instead of a death grip — thanks to a saint who posted a homemade alternative on YouTube.
What you'll need: Some lumber, screws, washers, an empty 2L bottle, a hanger and a smidgen of peanut butter. You will also need some tools and a knack for following instructions.
Here's how it works:
Mouse smells peanut butter. Is enticed.
It uses the block of wood to climb into the bottle and take the bait. 
When the mouse reaches the bottom, the bottle falls against the wooden block and Fievel is trapped AF.
But alive! Alive and well!
And unlike the wooden snap mouse trap, you don't have to dispose of an exposed dead rat corpse — you can bring the bottle outside and set the living, breathing vermin free.