Sports Authority Will Likely Close All Locations, Leaving 14,500 People Without Jobs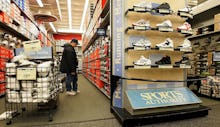 Thousands of workers are set to lose their jobs after beleaguered national sporting goods chain Sports Authority gave up hopes of a successful restructuring on Monday, Fortune reported.
Rather than seek Chapter 11 bankruptcy protection, Sports Authority will instead liquidate the vast majority of its assets — including offices and 463 retail locations in 41 states employing about 14,500 part-time and full-time workers — thus sealing the company's demise under a crushing $1.1 billion debt load. According to Bloomberg, prior buyout offers only reached $100 million, a pittance compared to their debts.
Last year, the chain lost $256 million before taxes, leading it to miss debt payments in January.
Read more: California Minimum Wage Initiative 2016: Where State Stands on $15 Minimum Wage
Sports Authority's woes are tied to the rise of online retail giants like Amazon, and as a result salespeople, cashiers and many other customer-service personnel are feeling the pains of an age of increasing uncertainty over the viability of retail employment, as reported by CNN in 2013. Workforce management technology, which allows managers to shuffle schedules around with the click of a button, and efforts to keep employees from qualifying for expensive employer coverage under the Affordable Care Act have made employment in retail considerably more precarious in recent years.
In pricey New York, for example, retail wages are down compared to the year 2000, with workers making less than $20,000 annually in one of the most expensive cities in the world. 
Nationally, Credit Suisse analysts expect record layoffs in 2016, which could exceed a prior peak of 30,273 cut jobs during the height of the last recession in 2010, MarketWatch reported.
Some Sports Authority retail locations, as well as some of their staffers, may survive under different brand names. According to NJ.com, Sports Authority was "once the nation's leading sports retailer but has slipped to fourth place behind competitors including Dick's Sporting Goods."