With This Dress, Solange May Just Upstage Big Sister Beyoncé at the Met Gala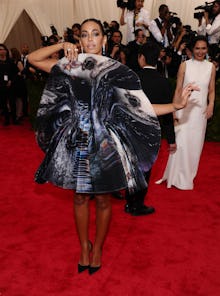 For members of the fashion elite, the Met Gala red carpet is the perfect place to make a fashion statement, be it through near nudity on the red carpet, or a grand, scene-stealing display à la Rihanna. 
Solange Knowles, who is currently getting prepped for the big night, is no exception. 
On Monday afternoon, Knowles debuted a dress on Instagram and Facebook that she could very well be wearing to the Metropolitan Museum of Art later today, for the gala celebrating the Costume Institute's latest exhibition, "Manus x Machina: Fashion in an Age of Technology." 
It is big. It is blue. It is pleated. (It is by the designer Jaimee McKenna.) 
"#MetBall day commentary.... Shout out to Jaimee McKenna," the Instagram caption read.
In all its oversized, pleated, clownish glory, this is a look that could very well upstage the look her sister, Beyoncé, pulled out last year, which was all types of jewel-encrusted and naked. 
The look itself appears to be from McKenna's winter 2013 collection, which was a joyous display of all things blue and pleated. According to Dezeen, the fabric is lambswool that has been felted to create a tougher material, and the blue color is inspired by the artist Yves Klein. 
"I found an image from a 1950s Vogue of an elaborate pleated skirt that had such structure and presence," McKenna told Dezeen. "I then developed my own felt that would hold its structure but still have a beautiful drape once it was pleated."
Read more: Solange's Photo of Blue Ivy Is Going Viral Because of Her Hair, of Course
Already, unsurprising to no one, social media is weighing in with some rather expert analysis. 
"It looks like the accordion man from the #cirquedusoleil kurios show," said one commenter. And you know what? They're not wrong. 
"Horrible! It looks like a balloon. It is for some presentation at the circus?" another noted. "Love it. Just like I love my lampshade," said one "fan." And finally, a Willy Wonka reference: "You remind me of Veruca Salt from Willy Wonka.... Only this ensemble is more festive than hers!!!"
Over on Facebook, fans were much more venomous, pleading with her not to wear the dress to the Gala. "I'm sure it cost a lot more than what I have on... but that is absolutely hideous," one commenter wrote. "I would not have designed that at all, much less put it on in any situation involving anything whatsoever lol." 
But not everyone was a hater. According to one Instagram commenter, there's really nothing she can do wrong. "You n your whole family is so gorgeous... You always rock." And another commenter was pretty OK with the look for the Met Ball. "For Met its actually awesome.. Really creative piece of ART!" they said. 
Compared to the many other times Knowles has walked the Met Gala red carpet, this look is definitely the riskiest. 
But hey, isn't that what the Met Gala is all about?
You can watch the entire video (via her Instagram) below. 
May 3, 2016, 8 a.m.: Sigh, OK, so Solange didn't end up wearing this folded, origami clown uniform. But, to be honest, we aren't that perturbed, because on Monday evening, she still wore this: 
A yellow, folded tulle explosion with yellow latex tights, which made her not look unalike to a lemon. (Coincidence? Perhaps not.)
The dress was also remarkably able to hold its own against her sister, Beyoncé's, light pink latex Givenchy dress, which unsurprisingly made a huge stir. 
Brava, Solange. Brava.