Meet the Young Sewing Bloggers Cashing In on Grandma's Favorite Pastime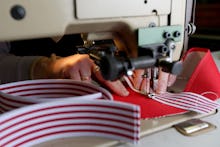 Jenny Rushmore has been running Cashmerette, a sewing blog and pattern company aimed at women who wear plus-size clothing full-time for a year now.  
She started the blog in 2010 simply to track her own progress as she taught herself to sew. Through her search engine analytics, as well as the community that has built around her blog, Rushmore realized there was a serious lack of modern fashionable sewing patterns for plus-size sewers. 
In response, Rushmore developed a line of patterns herself, then began selling them online. Five years later, she now sells sketch books that, unlike most fashion design sketch books that feature thin cartoon models, have fuller figured croquis. 
It wasn't always this way. Before the 1940s, ready-to-wear fashion wasn't the norm — no one thought all bodies could fit into a handful of sizes. Instead, people had clothes made for them or, at the very least, had their garments tailored. Many women knew how to make and alter clothes themselves. 
In the 1940s, though, the U.S. government created a set of standardized sizing guidelines using measurements taken from 16,500 women, including 6,500 members of the Women's Army Corps who were measured during World War II, according to the Atlantic. This made mass production of garments easier and helped create the fast fashion industry as we know it today. This industry removed the need for women to create their own garments and reduced the number of alterations needed on garments, which meant sewing was no longer a necessary skill.
In recent years, though, sewing as a hobby has begun to grow in popularity and sewing machine sales have skyrocketed. Even though it's not a crucial skill as it was in the early 20th century, learning to sew is now easier than ever. Today there are thousands of sewing blogs online where women (and sometimes men) post updates on their projects, recommend new fabrics and patterns and share tips and tutorials with their readers. 
Take that with the fact that many women are frustrated with fast fashion's standard sizes, it makes sense that sewing is seeing a resurgence in popularity. Best of all: It's proven profitable.
Read more: The Weird, Complicated, Sexist History of Pockets
You need not be a professional. The online sewing community largely consists of self-taught amateurs. Rushmore didn't learn to sew until she took it up as a hobby at the age of 30. Now, in addition to her business, she makes all the clothes she herself wears.
Tilly Walnes, who runs the sewing blog Tilly and the Buttons, started her blog in 2010 after she took up sewing because she was "bored" with her office job. "The reason I started a blog in the first place was because, at the time (six and a half years ago), I didn't know anyone else who shared my interest in making clothes," Walnes said in an email. Three year later, she quit her day job to make Tilly and the Buttons a full-time, self-sustaining business, now operating out of a studio in London.
Marcy Harriell, an actress who runs the popular sewing blog Oona Balloona said that when she moved to L.A. a few years back, she simply wanted a hobby that could serve as creative outlet that wasn't tied to her career. 
She blogged about her new endeavor merely as an easy way to stay in touch with friends and family. Now, however, Oona Ballooona has a regular influx of traffic, a secondary source of income in addition to her acting and thousands of followers on social media.
Sewing blogs provide unique business opportunities. Unlike fashion blogs and websites like Pinterest, where people tend to go for "inspiration," the readers of sewing blogs are often looking to start or support a hobby that requires specific tools, supplies and skills. 
Walnes says that she doesn't have generic ads or sponsored content on her site, though she does have sidebar advertisements from indie fabric shops. Instead, she's gotten creative, marketing her skillset to the masses. "My main business is selling sewing patterns, books and online workshops," she explained.
Harriell, on the other hand, partnered with indie pattern companies and is a member of Amazon's affiliate program. She makes just enough money to pay for sewing and blogging expenses.
A lot of other bloggers sell patterns, fabrics and supplies online, too. 
Gretchen Hirsch, who runs Gertie's Blog for Better Sewing, is one of the most successful, consistently partnering with established sewing pattern brand Butterick and selling a series of books about vintage sewing. 
Is sewing a feminist act? Sewing is often considered to be an old-fashioned hobby, or a symbol of the oppression of women (garment manufacturing, after all, still puts women at risk around the world). But many modern day sewers see their hobby as a feminist act: by making their own clothes and learning to size garments for any shape or size of body, many hobby sewers are rejecting the arbitrary standards set by today's fashion industry.
"Learning to sew totally changed my body image," Rushmore said in an email. "I didn't realize how much I was defining myself by how clothes fit me until I started sewing."
Learning to sew has helped Rushmore recontextualize her relationship with her body and realize that, as she puts it, "It's not your body that doesn't fit the clothes, it's the clothes that don't fit your body."
Most clothes are made with certain arbitrary measurements: standardized sizes are the only way ready-to-wear clothing can be manufactured on a large scale. As a result, most clothes available off the rack don't take into account the variability of human bodies, and many people end up wearing unflattering and uncomfortable garments on a regular basis.
It's a community of inclusivity. Looking through sewing blogs today, you'll find countless tutorials for how to adjust to any number of different body oddities: wide or narrow shoulders, small or full busts, and big butts, just to name a few. Though sewing requires a certain amount of resources to get started, when it comes to body image, sewing is inherently inclusive.
That might explain why so many bloggers describe the sewing community as positive, supportive, and — despite consisting of thousands of passionate bloggers — tight-knit.
"The online sewing community is a very friendly, supportive community of makers who share tips, techniques and inspiration and encourage each other to keep making stuff," Walnes said.
Rushmore said her blog has helped her make meaningful connections with women around the world. She has met with sewers in Boston, where she lives, as well as with local bloggers in the UK, Paris and Japan, to chat about sewing, go fabric shopping at local hotspots and just have a good time. She's not alone: Harriell said in an email that she meets up with other bloggers "all the time."  
Men are getting in on the act, too. There are a handful of popular menswear sewing blogs like Peter Lappin's Male Pattern Boldness, but hobby sewing is much less common among men than it is for women (even though many top fashion designers are men). That might be in part because the fashion industry predominantly targets (and often fails) women. 
"I feel like we're an anomaly in the world of blogging and social media," Harriell said. "Where interaction is dropping off in other genres, we're still there commenting and lending support. Probably because sewing is such a solitary activity!"