CNN's Jake Tapper Schooled Ted Cruz on Transgender Bathrooms — Right to His Inhuman Face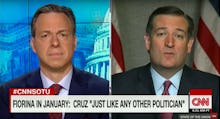 While appearing on CNN's State of the Union on Sunday, Republican presidential candidate and confirmed human Sen. Ted Cruz defended his position on transgender women using men's bathrooms. 
Cruz attempted to derail the conversation by saying that people like he or Tapper should not be in women's restrooms — that's when Tapper reminded Cruz that neither he nor Cruz identifies as female. 
"You and I don't identify as female. You and I aren't transgender. We — this law wouldn't be about you and me going into a women's room." Tapper said. 
Tapper began the conversation by showing footage of transgender celebrity Caitlyn Jenner using the women's restroom at Trump Tower and calling Cruz out for his transphobic remarks. 
As Jenner steps out of the restroom, she says, "And by the way, Ted [Cruz], nobody got molested."
Cruz, after watching the video, doubled down on his recent comments at an Indiana rally about "adult men" in bathrooms "with little girls" and called transgender women grown men again. He then added, "This is the height of political correctness. And frankly, the concern is not the Caitlyn Jenners of the world." 
Cruz probably doesn't realize that, by embracing these views on transgender people, he's actually hurting this already-marginalized population. 
Since North Carolina passed HB2, which requires people to use the bathroom that matches their gender assigned at birth rather than their gender identity, calls to a trans-focused North Carolina crisis hotline doubled. In April, event staff at a Cruz event kicked a transgender teen out of the event for no reason. 
However, while Cruz supports HB2, companies like Target and PayPal, celebrities like Bruce Springsteen and several activists from inside and outside the transgender community have spoken out against it — and some have even taken selfies against it.