5 Ways to Make Your Morning Breakfast Routine a Breeze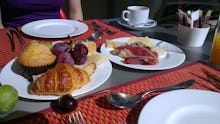 Breakfast is hard. 
Waking up is bad enough without the effort required laboring over a hot stove, or boiling water or some other draconian preparation. Sure, you could always drop cash for that store-bought something, but here's news — you don't have to.
The fact is, anyone can be a breakfast baller with a few simple life hacks. 
Here, below, are five suggestions.
1. Get Up Earlier 
The first and most important truism for anyone who actually wants to make breakfast a breeze is you'll just have to wake up earlier. Even an extra 15 minutes in the morning can turn slurping a half-raw egg through a straw while weaving through traffic a pleasurable dining experience at home. You might even be able to use — gasp — a fork and knife! 
2. Slow Cookers Are Your Friend
Maybe your aunt has a slow cooker that she said she was going to use but then was like nahhhhh. Well here's a pro tip: In addition to potentially turning dinner into a snap, a slow cooker can work just as well with breakfast — really! According to the good people over at The Cake Eccentric's Blog, all you have to do is put some bread in the slow cooker and pour over a batter made from six eggs, two cups of milk, one teaspoon of cinnamon, one tablespoon of light brown sugar and one tablespoon of vanilla. The work is done while you sleep so when you wake up — voilà, French toast!    
3. Make It the Night Before!
Like for real. If you enjoy a good breakfast, you already know this is something you should be doing. However, it never hurts to have a good reminder, because there are literally dozens of things you can whip up the night before to breakfast like a pro. Everything from smoothies to muffins to "Raw Banana Cinnamon Chia Pudding" can be yours every morning with a minimum of fuss and a maximum of baller. 
4. BULK EGGS!
Nothing says breakfast more than an authentic hard-boiled egg. It's not to be considered lightly, however, as it requires just the right amount of preparation. But did you know that you can skip the hassle by baking them — and with the right pan, you can even do it in bulk. According to The Burlap Bag, you can just stick as many as you want in the oven for 30 minutes, and then BAM. One hard-boiled egg left in the shell can last for a week in your fridge. Make a week's supply Sunday night and rejoice! 
5. Bar None 
If you just cannot possibly bring yourself to seize breakfast by the horns, you could still find salvation in bars. Morning bars have come a long way from your mom's day, and can pack a punch in the "good for you" department. According to Fitness Magazine,  Luna bars, for example, have 1,000 milligrams of calcium, and Bare Blueberry Acai Balance Bars have 15 grams of protein.