If You're a US Citizen Who Wants to Travel to Cuba, Here's What You Need to Know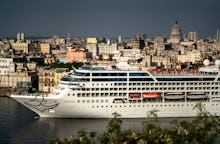 The first U.S. cruise ship to cross from the States to Cuba in nearly 40 years docked in Havana Monday, unloading 700 eager tourists for a "historic seven-day voyage that signals closer ties between the United States and its communist-run neighbor," CNN reported. Carnival Corp's Adonia made the trip in what is planned to be a regular, biweekly line costing about $1,800 and will feature educational workshops on Cuban history.
The trip is yet another stage of thawing relations between the island nation and the U.S., following President Barack Obama's March journey there. Under Obama's administration, a trade embargo imposed by the U.S. shortly after the country's takeover by Communist strongman Fidel Castro in 1960 has remained mostly in place, but restrictions over who can travel to Cuba and why have become less strict.
While it's easier than ever to visit Cuba for many U.S. citizens, 2016 is certainly not open tourist season for Havana. There are still plenty of facets unique to Cuba that must be considered before planning a visit. But here's what you might need to know if you're considering a trip to Cuba in the near future.
Can tourists go to Cuba?
Direct travel to Cuba remains limited for U.S. citizens. However, the Obama administration has approved exemptions for 12 approved categories of travel, including "visits to close relatives, academic programs, professional research, journalistic or religious activities and participation in public performances and sports programs," the New York Times wrote in March. Additionally, filmmakers and event organizers are permitted to go directly to Cuba, as well as those on "people-to-people" trips with a full daily schedule of "meaningful interaction" with average Cubans. The Adonia trip, with its educational workshops, passes the bar.
For decades, however, many Americans have traveled to Cuba indirectly via flights from other Latin American countries, violating the federal government's de facto ban on casual tourism in the Communist state.
Officially, U.S. citizens can receive up to a $250,000 fine and 10 years of prison time for spending any money in Cuba during unauthorized travel (entry to Cuba is not actually banned, but spending currency there is). However the Times reported in 2001 that enforcement of the travel ban was "scattershot at best," with just a few hundred cases prosecuted out of an estimated 40,000-50,000 illegal trips a year, and most violators assessed a $7,500 fine.
While prosecutions saw a small uptick under George W. Bush's presidential administration, enforcement has since gone mostly unaddressed and in the 2010s is usually very selective. Lessened travel restrictions means many U.S. citizens can easily find an officially acceptable reason to travel to Cuba, and travelers no longer need to seek a federal license before taking off.
So while you can't just hop over to Havana for spring break (yet), you might be able to fib your way in — and if you don't even bother to make up a valid reason, it's unlikely anyone in the federal government will care enough to retaliate. A bipartisan group of U.S. senators proposed dropping all restrictions on travel in 2015, so an era of unrestricted tourism may soon be at hand.
Additional restrictions may apply for Cubans who immigrate to the U.S.
Cuban immigrants to the U.S. may face additional hurdles during their journey, seeing as the Communist Party has implemented stricter regulations for anyone born in Cuba to get back in.
"Even with regular flights, it won't be too easy to get there for those who were born in Cuba," the Chicago Tribune reported. "Cubans who immigrated after 1970 must have a Cuban passport and a visa to visit the country, even if they're American citizens with a U.S. passport. A Cuban passport typically takes months to receive and must be renewed every two years. Cubans who left the country before 1970 must apply for a $200 visa that allows travel in Cuba for 30 days."
How you can get there
International airlines are preparing to run commercial flights directly to Cuba as of February 2016, when the Department of Transportation opened a bidding process for 110 daily round-trip flights in and out of the country, CNN reported. The relatively low number of approved flights, which are supposed to resume this summer, will likely prove a significant limiting factor in the number of U.S. citizens who can actually take advantage of the new routes.
Conde Nast Traveler reported earlier this year that travel company Hopper expects the average commercial flight to drop as low as $364 when all travel restrictions are dropped, down from the current average price tag of $717 for a chartered flight.
The Cuban cruise industry will essentially require a reboot, as the April 2 cruise was the first in nearly 40 years to cross the 90-mile Florida Straights sea lane from the U.S. to Cuba, according to WRAL. Until recently, the Cuban government prohibited citizens from entering or leaving the country via boat. In coming years, the BBC predicted, thousands more passengers may gain the opportunity to make the voyage.
Once there, travel within Cuba is primarily done via bus and car services.
What you can bring back
According to the Times, no more than $400 in goods and souvenirs — including $100 in cigars. The paper reported that U.S. Secretary of State John Kerry recently brought back a variety of other goods, including a humidor and rum. But you might have to pay in cash. ATM machines in Cuba are rare, and although the nation recently began accepting U.S. credit cards, it's unclear if and when the machines will be working for American transactions.
Cuban businesses accept both the regular Cuban national peso, but most tourists conduct transactions in a special currency for foreigners which comes with a 10% tax and 3% conversion fee on U.S. dollars. One U.S. dollar thus always translates to .87 Cuban convertible pesos. As a result, U.S. residents are better off exchanging dollars for another foreign currency before entering the country.