Hemp-Based Lube Is a Thing — And Users Are Leaving Rave Reviews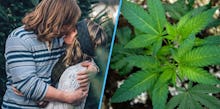 The reviews are in, and people are loving hemp-infused lubricants to provide the sexually charged high of their dreams. While cannabis lube won't actually change your sobriety, those who have tried the products seem to prefer them over the traditional lubrications needed occasionally underneath the sheets. 
A look through reviews for both hemp-based lubricants and those without any of the leafy green's added goodness reveal that people who use the plant products really dig their lube. As in, they really, really dig it. 
In fact, when it comes down to trying other lubes instead of Liquid Sex Xtreme Lubricant with hemp seed oil, Sherry Chamberlain said she always comes crawling right back to the good stuff. 
Some noted the lube feels somewhat slippery, which could be due to the hemp seed oil ingredient. Hemp seed oil has long been known for its conditioning properties, making it a great moisturizer or body lotion.
Some might be surprised to find out cannabis lube won't get their wives high — but happy wife means happy life, right?
Jesse Codding was reviewing Passion's hemp-aphrodisiac natural lube when he noted it was unfortunate the lube was unable to actually get his wife high. Fortunately, he still felt extremely blessed, writing, "my wife loved it."
Meanwhile, some of the most popular non-hemp lubricants on these same sites feature much more in-depth, critical reviews, from KY Jelly to Wet Platinum Premium lubricant (reviews listed respectively).
For these reviewers, non-hemp lubricants simply didn't get the job done.
So what could possibly make hemp-based lubes infinitely better than the traditional ones? Perhaps it's because women have been using weed to better their sex lives for quite some time. As Mic previously reported, women have long used weed as an aphrodisiac, fusing it into a beverage rather than smoking it, or placing it inside themselves. Throughout the 1930s, Russian women mixed cannabis with lamb's fat to make sex less painful. Perhaps hemp lubricants are just a continuation of society's tendency to use cannabis in our sex products throughout history.
Gertrude Ann expertly summed up why women might be falling in love with hemp lubricants in her review for Shibari's water-based hemp lube:
"I put some on my hands as if it were hand cream," Ann wrote about her initial test of the hemp-based product. "My hands were moist without being sticky and as it dried, my hands became smooth... almost silky. ... Of course I later tested it in the way it is meant to be used and found that all of the above was exactly how it all worked out."
"There is no odor to interfere with the natural fragrances of the body and there is nothing to get in the way of having an excellent experience."
So, perhaps next time you're hoping to take your time in the sheets to a higher level, try out some hemp-based lube.