7 Things Your Mom Wore Better — Way Before You Did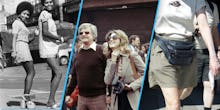 Mother's Day is a time for reflecting on all the positive, wonderful things your mom may (or may not) have given you. For starters, she probably gave you life. But it you're lucky, she also gave you her fashion sense. 
With all the best modern styles really being different incarnations of trends from the past four decades (see: suede dresses and platform shoes), there's a good chance that some of your most-prized garments look an awful lot like the clothes your mom grew up wearing or the clothes you saw your mother wear when you were young. That dress with the flared sleeves? She had it. That giant denim jacket you're currently bundled up in? That too. 
So in honor of this day of respect, Mic has gathered up seven things your mother absolutely, 100% wore before you did. Try not to get jealous. 
Big ass sunglasses 
Chances are, back in the 1970s, when your mom may have been an adolescent or a 20-something, she really cared about Farrah Fawcett. Those feathered locks; that red swimsuit; those huge, brown-tinted sunglasses — that's all you really had to wear in order to be a bonafide sex symbol. 
Unlike feathered hair or tight red swimsuits, giant sunglasses are still around. They are timeless. They are a gift. Sunglasses are one of the very few instances of an accessory that has really only gotten larger over time. (Compare them to, say, cellphones.) But anyway, just like your mom in the '70s, you also probably own a pair of sunglasses that reaches from above your eyebrow to the middle of your cheekbones, just like you saw Paris Hilton wearing in the early aughts. 
The floral minidress 
Like it or not, your mom is cooler than you. Over the past year, there's been a tidal wave of trendy '70s-inspired clothing, from sueded miniskirts to clogs. But by far the most pervasive trend that's sprouted is the floral minidress. And you know who wore it first? Of course you do. 
Shops like Urban Outfitters, ASOS and Free People have been the most prevalent fans of the floral mini, which can be anything from psychedelic to hippie-inspired. Although your mom probably didn't wear hers with a leather choker (seen above), she was still cool and trendy nonetheless, most likely pairing hers with strappy sandals. 
Platform shoes 
Look through a family photo album from the '70s and you're destined to see your mom in some high kicks. In the '70s, platform shoes were an overarching accessory, connecting countercultures from punk to disco to long-haired hippies. Paired with hot pants or bellbottoms, women 'round the world tried their damnedest to perfect their Bianca Jagger (or Cher!) look.  
Now, though, it's more about trying to look like any self-respecting petite person willing to risk their ankles in the name of fashion — and being three inches taller. 
Giant denim jackets 
While the '70s may have seen the dawning of your mom's adolescence, the '90s is probably when she started wearing typical mom attire. And in this prized decade, that meant slipping into a ginormous denim jacket. 
Seen here on Roseanne Barr, the people's princess, on her '90s TV sitcom Roseanne, oversized denim was a perfect way of saying "I don't give a shit, but I'm kinda chilly." Today, oversized denim offers teens and young adults a lightweight jacket alternative, packed with the same DGAF 'tude. 
The fanny pack 
You knew this was coming, didn't you? When you were 5, or maybe 7, you probably went to a theme park or national park with your mother. She wanted her hands free, her arms to feel unconstricted; so, of course, she wrapped a fanny pack around her hips and trotted through a parking lot or rocky path, as you winced in embarrassment behind her. 
Today, rather than at theme parks and national parks, you're more likely to spot the fanny pack at music festivals like Coachella, where young people want an easily-accessible pouch to store their face paint, extra pair of sunglasses and Xanax. Rather than a simple canvas or black pleather, fanny packs today come studded for extra attention, or in black faux crocodile, because why not? They have also gone way, way up in price, selling on websites like Nasty Gal for $42. 
Huge gold hoops 
Moms in the '90s loved a statement-making gold earring. Mom's gold hoops provided just enough edge to make her the coolest mom at the PTA meeting or chaperone to the zoo. 
Clair Huxtable, the only important and valuable character on The Cosby Show, was certainly a fan — and now millions of young women (and probably you) are too. 
Mom jeans 
You can't even lie about this one. We see you, indie girls who cuff their acid wash, high-rise jeans to show off their low-top Doc Martens. We see you, having to hoist up the waist every time you sit down. 
We see you, and we recognize that you just copped your entire look from your mother. 
And that's totally fine, since mom jeans have a certain power to make your butt look more voluptuous. And with women like Kylie Jenner in the spotlight making that very important, we don't blame you. What we think is most cool about this resurgence, however, is that we aren't even that shy about it, with more than 70,000 pictures on Instagram proudly showing girls in wide, stone-washed jeans, baring the tag #momjeans. 
This is basically us going to the club now: 
And we're not even mad about it. 
All hail moms.