15 Amazing Tattoos That Challenge the Stigma of Anxiety and Depression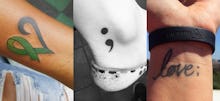 Around one in five U.S. adults experiences mental illness in a given year, according to the National Alliance on Mental Health. But, despite it being so common, lingering social stigmas make it hard for some to speak out about their mental health issues. 
Yet more and more, people are finding the strength to talk openly about their depression, anxiety and other mental illnesses. Some are even shattering the stigma by adorning their bodies with mental health-related tattoos.
In honor of Mental Health Awareness Month, here's some awesome ink:
Project Semicolon
It's not necessarily about a passion for grammar. If someone has a semicolon tattoo, it could be a part of Project Semicolon — a movement "dedicated to presenting hope and love for those who are struggling with mental illness, suicide, addiction and self-injury," according to the project's website. 
Why the semicolon? "A semicolon is used when an author could've ended a sentence but chose not to," the website explains. "You are the author and the sentence is your life."
Some incorporated the semicolon into more complex designs:
Save Me
In 2015, photos of Facebook user Bekah Miles' tattoo went viral. The tattoo is an ambigram: Viewed from the front, it reads "I'm fine"; viewed from Miles's perspective, it reads "save me." For people with depression, it's a powerful and relatable message.
"To me, it means that others see this person that seems OK, but, in reality, is not OK at all," Miles wrote on Facebook. "It reminds me that people who may appear happy, may be at battle with themselves."
"Ataraxia"
Ataraxia means "calmness untroubled by mental or emotional disquiet," according to Merriam-Webster.
The National Eating Disorder Association's logo is commonly used to honor eating disorder recovery. Some get tattoos of the logo alone, while others incorporate its swooshing lines into larger designs.
"Always Keep Fighting"
Source: Imgur
Source: Imgur