Your Guide to the 2016 Tony Awards, Including Nominations, History, Host and More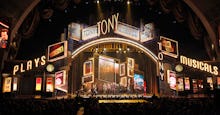 The 2016 Tony Awards, the biggest night on television for all current and former theater kids, are coming up — and with nominations announced on Tuesday, the buzz is already starting. Here's everything you need to know about the upcoming Tonys, from the time and date of this year's show to the history of Broadway's biggest night.
Who's Tony?
"Tony" is actually a nickname for the Antoinette Perry Award for Excellence in Theatre. Perry was a Broadway actress in the early 20th Century who made her New York stage debut in 1905. In 1922, her husband passed away, leaving her in charge of their $13 million fortune. Perry became a director, a philanthropist and the leader of the American Theatre Wing before her death in 1946.
What's the show's history?
The first Tony Awards ceremony was held in April of 1947, shortly after the death of Antoinette Perry, at New York's Waldorf Astoria Hotel; more than 1,000 guests were in attendance. There was no live television broadcast and only seven categories. Playwright Arthur Miller and actress Ingrid Bergman were two of the winners at the very first Tony Awards — but they didn't get to take home the now-famous Tony medallions, which would be introduced two years later in 1949.
The first Tonys to be broadcast on television were the 1967 awards, which featured appearances by Lauren Bacall, Carol Burnett, Kirk Douglas, Angela Lansbury and Barbra Streisand and aired on ABC. CBS, the Tonys' current network, has broadcast the show since 1978.
When are the Tonys?
This year's Tony Awards will air on CBS on Sunday, June 12 from 8 p.m. to 11 p.m. Eastern and will also stream on CBS All Access. The show, which is presented by The Broadway League and the American Theatre Wing, will take place at the Beacon Theatre.
Who's hosting?
This year's awards show host is Tony-winner and Late Late Show-host James Corden. Corden is no stranger to musical theatre, he won a Tony in 2012 for his role in One Man, Two Guvnors and starred opposite Emily Blunt in the 2014 film adaptation of Stephen Sondheim's musical Into the Woods.
Last year's Tony Awards were hosted by Kristin Chenoweth and Alan Cumming; past hosts have included Nathan Lane, Rosie O'Donnell, Julie Andrews and Glenn Close. Angela Lansbury currently holds the record for most frequent host — she's anchored the Tony Awards five times, although Neil Patrick Harris and Hugh Jackman have each hosted four times.
What's nominated this year?
Here's a list of this year's Tony Awards nominations, by category, courtesy of Billboard: 
Lead actor in a musical
Lead actress in a musical
Leading actress in a play
Best play
Best musical
Best revival of a musical
Best revival of a play
Best orchestrations
Best original score
A full list of Tony nominations is available on the official Tony Awards website. 
What's the buzz?
This year, much of the Tony buzz is revolving around the smash hip-hop historical show Hamilton, which has already won a Grammy for best musical theater album and a Pulitzer Prize for drama for the show's creator and star, Lin-Manuel Miranda.
For many, the show is already a shoe-in for best musical: As the Los Angeles Times reported in April, "The best musical honor is off the table for every show but one, with the odds of a production upsetting Hamilton pretty much on par with Aaron Burr becoming the 45th president of the United States."