Karolina Kurkova's Met Gala 2016 Dress Was a Color-Altering Creation by Marchesa and IBM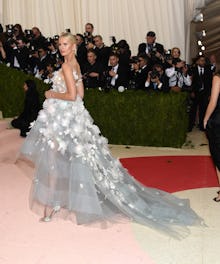 At the Met Gala on Monday evening, themed "Manus x Machina: Fashion in an Age of Technology," we knew that we'd see our fair share of futuristic gowns. But one dress in particular took things up a notch. 
On Monday night, rather than dressing like a robot (which lots of celebs opted for), model Karolina Kurkova took the technology vs. fashion theme more literally, and wore a light lavender dress with more than 100 gauzy white roses, with LED lights embedded inside them. 
As she traveled down the carpet, the roses changed color, creating a display similar to a float at the Disney Electric Light Parade. 
The ensemble was created from a partnership between design house Marchesa and technology company IBM and its Watson cognitive system, which leapt at the chance to take advantage of this year's Gala theme. 
"When you think of the theme, it was this perfect opportunity to see what an expert at a top of their craft can do with technology playing an assistive role," Jeff Arn, a Watson strategist at IBM, said in a phone interview. "So from our perspective, it was important to see this technology as providing this opportunity for people to be more creative."
With help from technology, the two teams felt that the effect of the dress's wow-factor could only be heightened. So, for the past month, IBM and Marchesa designers Georgina Chapman and Keren Craig have worked together to create the most futuristic dress they could and, in turn, created a dress that connects directly to social media, via a hashtag. 
Viewers of the Met Gala red carpet were encouraged to tweet their thoughts about the dress using the hashtags #CognitiveDress and #MetGala. In reaction to the tweets, the dress's flowers, packed with LED lights, would change to reflect their emotions. 
If people expressed excitement about the dress and the event itself, the colors would brighten. As emotions waned, they would fade. 
The dress was the night's theme incarnate, pushing the boundaries of what wearable technology can look like on a red carpet.
"One of the things that had everyone smiling was the theme to debut this dress," Arn said. "This idea of man and machine. How the theme was interpreted in this just spoke to the core of the mission, which was to show how this relationship can really work. From our perspective, you couldn't ask for a better moment."